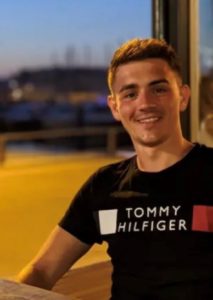 Will Carpenter, 21, from Bedford, had no idea that the chronic pain he lived with could be a form of inflammatory arthritis. It was only when his symptoms worsened during lockdown and he was taken to hospital that he was diagnosed with axial SpA (AS).
Your support meant that we were able to be there for Will at a critical time. But there are still many people struggling on their axial SpA journey without the help they urgently need. 
Please consider a donation today and help us support everyone who needs us, and raise awareness of the symptoms of axial SpA so that everyone receives a faster diagnosis, has access to the right care, and starts living well with axial SpA sooner.
Thank you.
---
"Nobody thought that someone my age could have arthritis."
I've always been sporty, and during lockdown, I ran 30–40 miles a week. In January, I challenged myself to run 100km in a month, which felt achievable despite continual pain in my lower back. By the time I had finished the challenge, though, I could no longer run: the pain had become so bad.
On the 13th of February, I went to bed as usual, but I woke later that night with excruciating pain in my lower leg. I couldn't even bear the weight of a blanket on top of it. I went to the doctor the next day, who thought it might be sciatica. I was prescribed painkillers, but two days later, the pain was much worse. I went to A&E, and they booked me an urgent appointment with a rheumatologist.
But I couldn't wait. Later that same night, I woke up in horrendous pain.
I tried to stand and fell to the ground, unable to move or even get to the toilet. I was paralysed and in agony. I had to phone my dad from the next room to come and help me. My dad and step-mum called an ambulance, but at the hospital, the doctors couldn't figure out what was wrong with me. It was awful.
Due to Covid-19, my family couldn't visit for the two-and-a-half weeks I was there, and I was scared, alone, and confused, as doctors threw medical terminology at me, and I had no idea what it meant or what would happen.
I remember a doctor saying, 'We don't know what's wrong with you.' It was terrifying.  
I'd never been in hospital before. Having constant tests and no one knowing what was wrong was horrible and magnified by the stress of Covid and the isolation I felt. I was so anxious, and all I wanted was to go home.
Nobody would think that someone my age could have arthritis. But after numerous tests, doctors discovered I had the HLA-B27 gene, directly connected to axial SpA. An MRI scan and blood results showed damage to the base of my spine and severe inflammation around my body, which confirmed this diagnosis.
Initially, I was prescribed IV Steroids which worked for the first couple of days but soon wore off, and the pain came back. Fortunately, I didn't have to wait long for my appointment with the consultant. He could see the pain I was in as I struggled to walk into the consulting room, and I was prescribed biologics, methotrexate, and strong NSAIDs.
My medication took nearly eight weeks to arrive, and I was in considerable pain.
I couldn't move, drive, or even make a drink for myself; I couldn't see my friends and needed crutches. I was unable to work, and I worried my employer wouldn't understand. It was so tough to go from being the fittest I've ever been to not being able to do anything. I couldn't see how I was ever going to get back to 'normal'.
It was at this time I got in contact with NASS.
Through information on the NASS website, I learnt more about axial SpA, and Sally and Garry on the NASS Helpline were so reassuring: helping me understand my diagnosis. After so much uncertainty, I felt listened to. As well as providing an empathetic ear, Garry told me of other support available.
As I learnt more about axial SpA, I realised I've had symptoms for years. I'd had horrible pain in my knees and joints, which were always put down to growing pains, stomach issues, sciatica, and extreme fatigue. All of which I now know can be symptoms of axial SpA.
I felt embarrassed, being so young and having to explain that I had a type of arthritis.
When my medication arrived, the difference was phenomenal. I have bad days, but my pain has mostly gone, thanks to daily stretches and light exercise. I'm up and about and can drive again. I feel like a different person!
I will live with axial SpA for the rest of my life but getting a diagnosis has been a game-changer. I now have the help I need and can join communities like NASS, and meet others with the condition and get their advice. I realised this was nothing to be embarrassed about as others have had the same experience. Education about the condition is hugely important.
I'm making big steps towards living well with axial SpA.
I'm on a referral scheme at my gym and hoping to be allocated a personal trainer to help me exercise safely. I'd love to be able to run again! I would strongly urge anyone living with persistent lower back pain to see their GP as soon as possible. Axial SpA is surprisingly common, and it affects young people. The sooner you are checked out, the sooner your GP can get the ball rolling if a diagnosis of axial SpA needs investigation.
---
Since 1976, we have been determined to ensure that no one is locked out of life because of axial spondyloarthritis (axial SpA). We don't receive any government funding, and your donations go a long way towards helping us transform the diagnosis, treatment and care of people with axial SpA so everyone can live well.   
Anyone affected by axial SpA can contact the NASS Helpline.