Starting the 13.1-mile scenic route in Newcastle upon Tyne and finishing with a beautiful view of the sea at South Shields, take on the world's biggest half marathon and fly the flag for NASS.
Each year, NASS is delighted to have guaranteed places available for our amazing supporters to run for us. If you are interested in securing a spot to represent NASS, get in touch with our friendly fundraising team. Alternatively, enter the ballot that takes place in January for the chance to get involved.
Event info: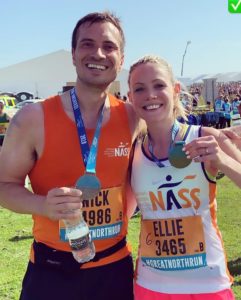 Date: Sunday 13 September 2020
Location: City Centre, Newcastle
Registration fee*: £25
Minimum sponsorship pledge*: £350
*These rates are for charity places – if you have your own place to run through the ballot, there are no minimum sponsorship targets, but we will still welcome you onto Team NASS and support you every step of the way.
Why join Team NASS?
You'll get one-to-one fundraising support from our team to help you achieve your sponsorship target
We will send you a free NASS running vest to wear on the big day
We are dedicated to supporting your preparations for the race, answering all your questions and helping you plan your day
You'll be joining an incredible community of people inspiring each other to raise awareness of axial SpA (AS) and help transform the future of people living with axial SpA (AS).
Sign up now
Contact us to ask for an entry form for one of our charity places. If you've already secured your own place through the ballot, we would also love to welcome you to the team. Get in touch with us and start your journey with NASS today!
Questions?
Email Katie or Fareen with any questions or for any further information.
Check out the Great North Run website for more details about the race.