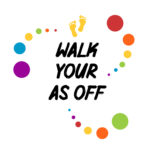 Thank you to everyone who took part in Walk Your AS Off 2021 with Team NASS!
We've been on an incredible journey together since 1 May. Over 150 NASS supporters logged millions of steps, raised over £21,000 to support our work, shared hundreds of stories, explored new places, and made lots of new friends!
Even our four-legged friends got involved, with a record 100 dogs taking part to help raise awareness of axial SpA. 
While Walk Your AS Off is not a competition, we are delighted to announce that NASS teams were the top two teams overall, logging the following number of steps:
NASS Orange Apples – 29,901,842
NASS AS Buzzers – 26,022,093
Well done, everyone, and once again, our heartfelt thanks for making Walk Your AS Off 2021 the biggest and best ever for NASS. We'd also like to say a special thank you to NASS team leaders Gillian Eames and Kathy Miller for helping to log steps and keep us all motivated throughout May!
If you took part in this year's event and would like to share your feedback, please complete this short form.