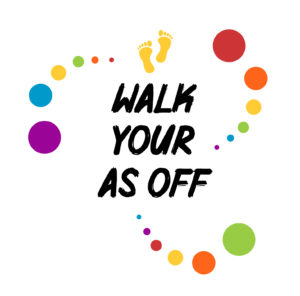 Walk Your AS Off is an international step challenge, all about getting active for health and raising awareness about axial SpA.
It's organised by Walk AS One, a volunteer-led organisation based in the US that motivates the global axial SpA (AS) community to raise awareness about the condition. It also forms part of the World AS Day celebrations on 8 May 2021, organised by the Axial Spondyloarthritis International Federation (ASIF), representing patient organisations around the world.
NASS supports this event, alongside other organisations worldwide, to help raise awareness of axial SpA and raise funds to support our vital work.
---
How does it work?
During May, pledge to get active by recording the steps you take. There's no minimum or maximum steps, and any activity can count towards your step total, whether that's walking, running, dancing or doing housework. Please do make sure you check with your doctor or a physiotherapist when taking on any new exercise and pick a challenge that's suitable for you.
Walk Your AS Off is all about collective effort. Whether you walk 50 steps a day or run 5,000, it all adds up to the NASS team totals! Once you have registered to take part (see the form below), we'll send you full details on how to record your steps.
---
Who can take part?
Anyone with axial SpA, friends, family members, colleagues – even your dog!
---
How do I join a team?
Registration is free using the form below, and NASS has three official teams that you can join.
NASS Orange Apples – This team is for people who want to walk.
For four-legged friends who might be walking with you, we have the NASS PAWS team.
NASS AS Buzzers – This team is those who want to push themselves a bit further, take on a longer distance or other sports, or who prefer to run.
---
How do I get a NASS t-shirt and/or doggy bandana?
If you would like a NASS t-shirt and/or a doggy bandana, please complete the form below. Please also let us know if you plan to fundraise as part of your challenge, and we'll also send you a fundraising pack.
If you would like to purchase official Walk Your AS Off merchandise, including face masks, hoodies and water bottles, please visit the Walk AS One website. All proceeds from the sale of these items go to Walk AS One.
---
Do I have to fundraise?
You don't have to fundraise for NASS to take part in Walk Your AS Off, but we would be very grateful if you do. Every penny will help us transform the diagnosis and care of people living with axial SpA in the UK. If you don't plan to fundraise, please consider a suggested donation of £5 to cover your t-shirt/dog bandana cost.
---