NASS seeks a research supplier to undertake a modelling study to determine the full economic cost to the UK of each year of delayed diagnosis of axial Spondyloarthritis
Deadline for tenders 12 Noon 31 May 2021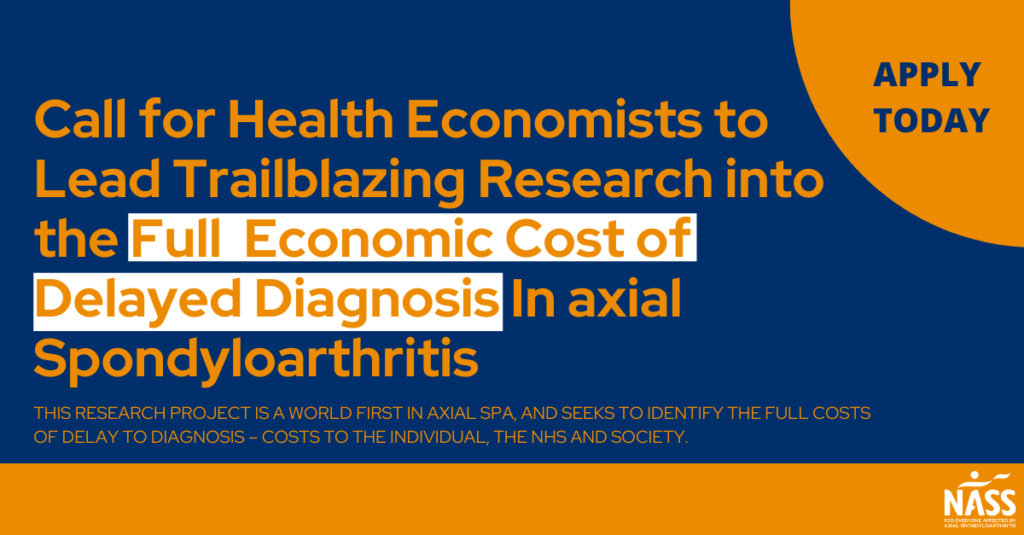 Context of the study
In the UK, it takes on average 8 ½ years for someone living with axial SpA to be diagnosed. During this time people can experience significant amounts of pain and anxiety and they often pay a heavy physical and psychological price for this delay[1]. Symptoms typically begin in early adulthood (average age of 24) when people are trying to establish careers, start relationships and families, so a delay to diagnosis can be incredibly disruptive to someone during their formative years.
To date, there have been no health economic studies of the impact of diagnostic delay in the UK. The indirect effect of delay (through greater disease severity) has been shown potentially to double the cost to the NHS[2].
Whilst there have been some health economic studies of diagnostic delay, these tend to focus on healthcare costs. There have been fewer studies into the costs of lost productivity or inappropriate out of pocket costs as a consequence of diagnostic delay. To our knowledge, there haven't been any studies worldwide that have sought to estimate the total cost of diagnostic delay. There is one study in the UK from 2015 that looked at the total cost of ankylosing spondylitis in the UK which it estimated to be £19,016 per patient per year[3].
Scope of the study
The study needs to answer the question: What does each year of delayed diagnosis in axial SpA cost the UK economy? The study should construct a single total figure that encompasses all of the costs of diagnostic delay. We will use this figure in our Parliamentary and campaigning work in order to support our other efforts to drive down the average time to diagnosis.
The full tender Specification of the Requirement can be found here.
Tendering your bid to undertake this study
Please complete the Declaration and Information form and send it in with your bid document(s).
Important Terms and Conditions for the Tender
Please review the Instructions and Information on the Tendering Procedures document for our complete Terms and Conditions for the tender before you submit your bid.
Your bid documents and any other attachments
These can be in pdf or PPT format.
Submission of your bid and completed Declaration and Information form
Please send all documents to lisaswingler@nass.co.uk and cc goldstandard@nass.co.uk no later than 12 noon on 31 May 2021.
Queries
For an informal discussion about the proposal, please contact
NASS CEO Dr. Dale Webb dalewebb@nass.co.uk.
For queries about process, please contact lisaswingler@nass.co.uk.
All answers to queries will be posted anonymised below on our website. Please see our Terms and Conditions document for more information on this.
[1] Martindale J, Goodacre L. The Journey to Diagnosis in AS/Axial SpA: The Impact of Delay: The Journey to Diagnosis in AS/Axial SpA. Musculoskeletal Care. 2014 Dec;12(4):221–31.
[2] Cooksey R, Husain MJ, Brophy S, Davies H, Rahman MA, Atkinson MD, et al. (2015). The Cost of Ankylosing Spondylitis in the UK Using Linked Routine and Patient-Reported Survey Data PLoS ONE 10(7): e0126105
[3] Cooksey R, Husain MJ, Brophy S, Davies H, Rahman MA, Atkinson MD, et al. (2015). The Cost of Ankylosing Spondylitis in the UK Using Linked Routine and Patient-Reported Survey Data PLoS ONE 10(7):e0126105