Stretch-tember is our new virtual stretch challenge. It is easy to take part you just need to commit to stretch throughout September while fundraising for NASS.
To keep us all motivated we have teamed up with Yoga for AS who are allowing us unlimited and free access to their live online sessions and a library of yoga sessions for the whole of September.
Here's how it works.
Sign up to pledge to stretch for 15, 30, 45 or 60 minutes every day in September, and ask your family and friends to sponsor you.
We will send you special instructions on how to sign-up for free online sessions run by Yoga for AS and their library of yoga sessions.
Whether you'd prefer a gentler session, looking to try something new like bed or chair yoga, or would prefer something more challenging, we are confident you will find something that works for you.
Plus, you'll receive a welcome letter, NASS t-shirt and a bandana for your four-legged friends if they want to join us.
There is a minimum fundraising target of £20 to cover the costs of postage and packaging.
Every penny you raise will help power our Helpline or fund practical support that enables us to make a life-changing difference to thousands of people affected by axial SpA.
For more information on Yoga for AS, visit Yoga for AS.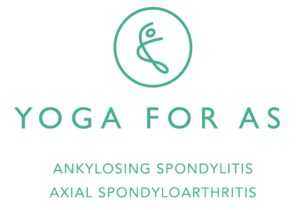 ---