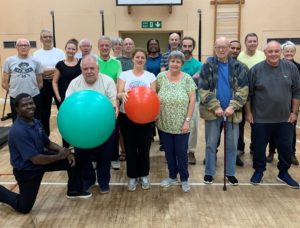 Cost: £5 per session or £20 for 5 sessions
Currently not meeting due to COVID-19. If you'd like to be notified when we are able to meet please email the branch
South Essex Branch of NASS has the benefit of both a gym and hydrotherapy pool.
We have a good average weekly attendance of ± 15 members and exercising is carried out in a very friendly atmosphere.
We have hydrotherapy every week, where the emphasis is on stretching exercises, overseen by a trained physiotherapist. Gym sessions also take place every week, also under the guidance of trained physiotherapists.
There are lots of cardiovascular and stretching exercises , with other gym equipment available for use under supervision.
Please note that you must have a UK diagnosis of axial spondyloarthritis aAxial SpA) or ankylosing spondylitis (AS) to attend this branch.
NASS South Essex
Fill in this form below to contact NASS South Essex