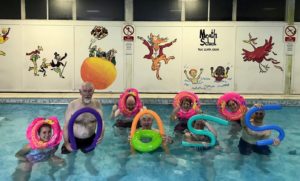 Cost: £40 per quarter
Currently not meeting due to COVID-19. If you'd like to be notified when we are able to meet please email the branch
Our branch is a very supportive and friendly self-help group with a large member age range. All exercises can be performed at a level to suit your ability.
Each session is led by one of our three physiotherapists who are happy to provide support and answer questions.
Gym sessions include a warm-up routine, cardiovascular work, targeted exercises, then cool-down and stretching. The sessions last for an hour and are held on alternate Tuesdays at Chertsey House. Free parking after 1800 is available in the car park on the left side of the road as you enter the hospital site.
Our hydrotherapy sessions run on alternate Tuesdays and are held in the hydrotherapy pool of Meath School in Ottershaw.
Please note that you must have a UK diagnosis of axial spondyloarthritis (Axial SpA) or ankylosing spondylitis (AS) to attend this branch.
NASS Woking and Weybridge
Fill in this form below to contact NASS Woking and Weybridge