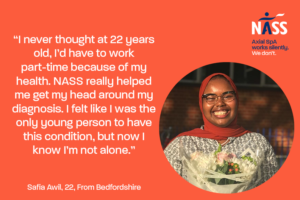 Your regular donation will help transform the diagnosis and care of people living with axial SpA and help more people live well with the condition.
At NASS, we are here to listen and to understand. From supporting people to access the financial support they are entitled to, to helping them manage their symptoms or understand their diagnosis, our services are for everyone affected by axial SpA, and we can offer a friendly ear and support when it's needed most. We don't receive any statutory funding, so we rely on the kindness of people like you to keep our services free of charge and available to everyone who needs them. 
Please join us and donate today. 
Thank you.