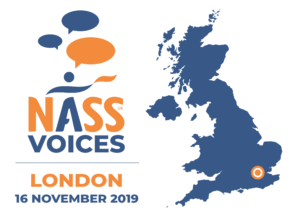 NASS Voices London is now sold out. To join the waiting list for spaces please email events@nass.co.uk.
Venue: Queen Elizabeth II Conference Centre, Broad Sanctuary, Westminster, London SW1P 3EE
Date: Saturday 16 November
Cost: £10 per person
It's a chance for you to
Meet others affected by axial SpA (AS)
Learn what's new from a rheumatologist with a special interest in axial SpA (AS)
Find out more about managing flares
Work with a voice coach to keep your ribs flexible
See if the Alexander Technique could work for you
Discover how to care for your feet
View the full conference programme.
This event will also include our Aspiring to Excellence awards
Join us to celebrate the rheumatology services who have been successfully awarded a place on our Aspiring to Excellence programme. NASS CEO Dale Webb will lead the presentations to the six successful services and update everyone on how the work of the programme forms part of the NASS Every Patient, Every Time campaign.