Waiting 8.5 years for a diagnosis risks pushing people in the UK into poverty
26.04.22
Waiting for an axial spondyloarthritis diagnosis costs an average of over £196,000 per person, according to new research commissioned by the National Axial Spondyloarthritis Society (NASS).
Initial results show that people are left paying a high price while they wait for a diagnosis and face financial insecurity, losing tens of thousands of pounds in income and carrying the burden of significant out of pocket costs.
Around 1 in 200 people in the UK live with axial spondyloarthritis, an inflammatory condition of the spine and joints, that, if left untreated, can lead to spinal fusion. With symptoms starting at an average age of just 26, it's a condition that disproportionately affects younger people and can make it hard to establish a career or family life. At present, it takes on average 8.5 years to receive a diagnosis.
Many people with undiagnosed axial SpA find it hard to sustain full-time employment. Those in employment are often forced to take unpaid sick leave, while many others leave or lose their job or cut down working hours as the pain and exhaustion associated with the condition makes full-time work impossible. Without a formal diagnosis, people cannot access vital disability benefits, pushing people into poverty.
This loss of productivity costs an average of £121,515 per person over 8.5 years, including loss of income from unemployment, unpaid sick-leave and changing jobs.
People also face significant out of pocket expenses as they try to manage their pain and search for an answer. This can include the cost of over-the-counter medication and prescription charges, private chiropractor and osteopath visits, and travel costs for NHS and private appointments, totalling around £68,000 on average over 8.5 years.
Failure to diagnose early also results in higher costs to the NHS of £7,106 per person.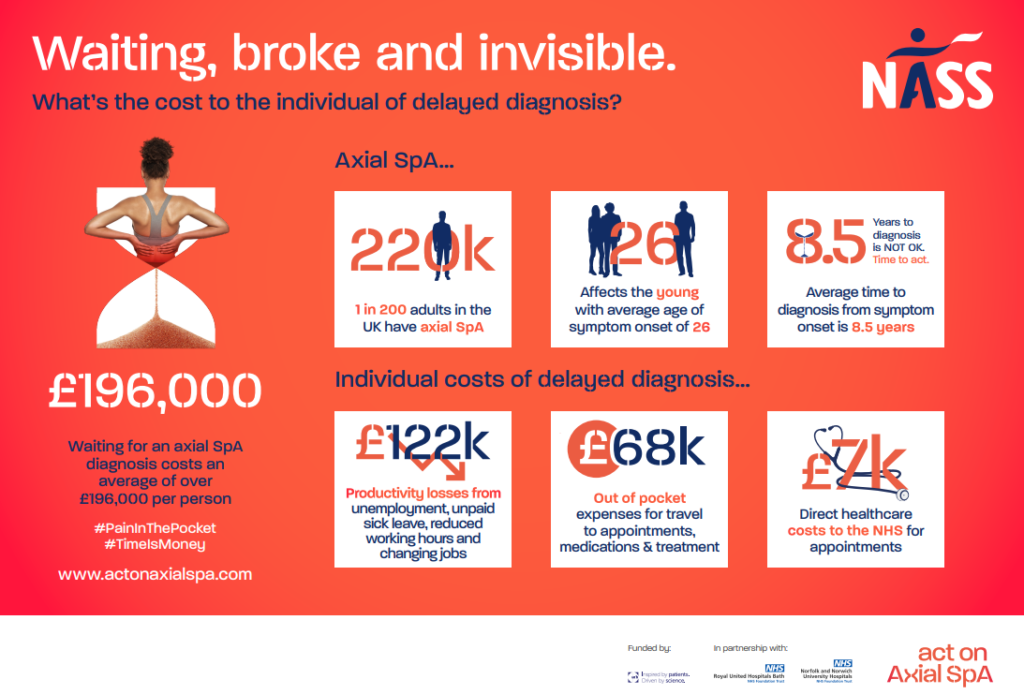 Shabir Aziz, from Sheffield, faced a 15-year delay to diagnosis. As a graduate he expected to establish a well-paid professional career. Instead, he was left unable to work and relying on benefits for 20 years, while he waited for an axial SpA diagnosis.
According to Shabir:
"I was often in trouble for being absent from work – I didn't have a definitive diagnosis to explain or justify my pain and fatigue, so managers had very little sympathy. I landed my dream job, but I had to leave within a year because I was taking too much time off sick.
When it became clear that work was going to be impossible, I started applying for financial support, but I was turned down on multiple occasions because I didn't have a diagnosis that could explain why I was unable to work.
Mentally, I really struggled too. I became socially withdrawn and lost friends. It also impacted my marriage, my wife became my carer and took the brunt of my ups and downs.
Now, aged 51, with the right diagnosis and medication, I feel like I've got my life back and hoping to get back into work soon."
Commenting on the research, Dr Dale Webb, NASS CEO said:
'The price people are paying for a delayed diagnosis is unacceptable. People are often left unable to work, unable to claim disability benefits and are at risk of been driven into poverty. We are determined to change this and drive down the average time to diagnosis to just one year. Ending the delay will be good for the individual, good for the NHS and good for the economy."
The research is based on a financial model developed by the University of East Anglia and commissioned by NASS. It has been released as part of the Act on Axial SpA campaign, which aims to establish a Gold Standard time to diagnosis time for axial SpA of just one year.
Commenting Prof RJ Fordham. Chair in Health Economics, University of East Anglia said:
"Our modelling suggests the cost of delayed diagnosis of axial spondyloarthritis is substantial. Most of the burden of these costs fall on the individual with the condition, with younger people paying a higher price. It's clear from the modelling that earlier diagnosis and treatment of the condition is better not just for the individual but for the economy as a whole"
For more information or interview please contact Liz Marshall, Head of Communications at NASS on 07796697593.
Notes 
The Act on Axial SpA campaign aims to drive down the 8.5 year delay to diagnosis of axial spondyloarthritis by introducing the world's first Gold Standard diagnosis time of just one year.
The campaign is led by NASS in partnership with Norfolk & Norwich NHS Foundation Trust and RUH Bath NHS Foundation Trust and funded by UCB .
About the research. The research was commissioned by NASS and carried out by the University of East Anglia. To develop the model, a mixed methods approach was taken that included semi-structured interviews with key stakeholders (12 clinicians, 4 people living with axial SpA) to understand the experiences and impacts of delayed diagnosis and the costs incurred, survey data and data sets of anonymised patient information. Stakeholders also assisted in validation of the model.