"I have AS quite severely, and my mobility is limited, so the Walk Your AS Off challenge is perfect for me"
Gillian Eames is a NASS Trustee and is also captain of the NASS Orange Apples team for the Walk Your AS Off (WYASO) challenge. Here, Gillian talks about how she first got involved with WYASO and why she'll be walking in memory of a very special friend this year.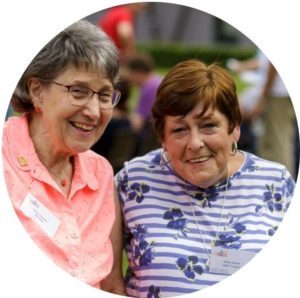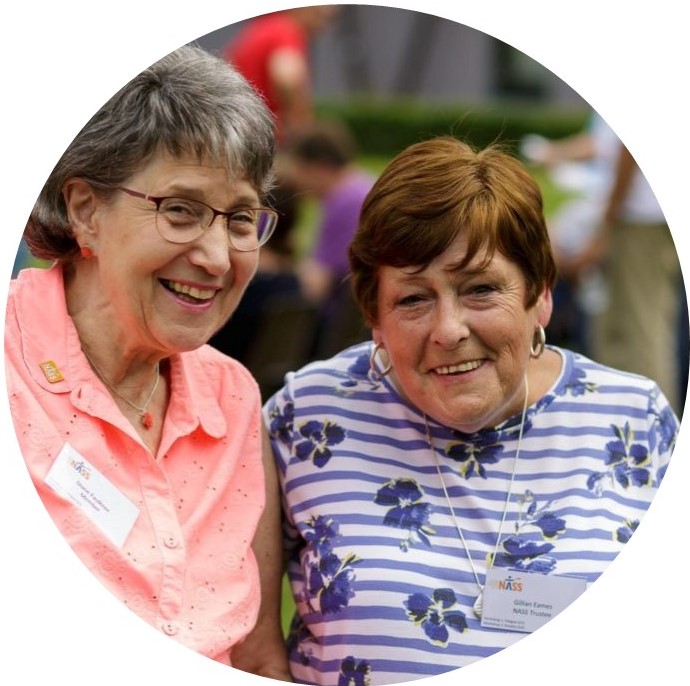 I first became involved in Walk Your AS Off ten years ago. The lovely Jennifer Dye Visscher started the first one to encourage others with axial SpA to get active for health and raise awareness of this often misunderstood and misdiagnosed condition. The first event was just a small group of people (including me!) counting their steps during May as part of Jennifer's team 'Blue Apples'. Little did she know that in a few years, WYASO would become an international event with thousands of people from all over the world walking to raise awareness of axial SpA (AS)!
I have AS quite severely, and my mobility is limited, so the WYASO challenge is perfect for me.
It encourages me to keep active, and because any activity can count towards your steps, I can still take part even if I do not leave the house. Because it's a virtual challenge, it means that I can go at my own pace and take lots of breaks if I need to.
After the first WYASO, I suggested to Jennifer that I could start a UK team, and we both agreed that 'Orange Apples' would be a great name, as the colour orange represents NASS, the only charity in the UK dedicated to transforming the diagnosis and care of axial SpA.
I'm so proud that the NASS Orange Apples team has grown so much over the years.
We have our own Facebook group to encourage each other and share photos and updates on our progress. It's really a support group, and I've made lots of great friends through the team.
That's one of the most wonderful things about WYASO. It's about bringing people together. It's not just for people living with axial SpA; it's for their friends, family, and even their dogs too!

Sadly, this year is the first year that my dear companion Rosie Dog won't be joining us.
Rosie Dog had been a working guide dog and first joined Orange Apples with one of my visually impaired friends. When Rosie Dog retired, she came to live with me, and she really encouraged me to keep active. She used to look at me with her big eyes as if to say, 'can we please go for a little walk, Gillian?'
Rosie Dog would join me for WYASO every year – we even created the NASS PAWS team to log her steps. She really was a character and helped me raise lots of awareness about axial SpA and the work of NASS. On our walks at the local park, we'd sit down often to rest and watch the world go by. People often talk to you when you have a dog anyway, but Rosie Dog would wear the bandana that my friend Martin made for her and her WYASO cap, so we would get lots of attention, and she would help start lots of conversations!
Rosie Dog sadly fell asleep peacefully at home last July at the age of 13, and I miss her every day. This year will be hard without her, but I am walking in Rosie's memory, and I'd like to encourage as many dogs as possible to join Rosie's NASS PAWs team this year.
Thank you to everyone who has joined NASS Orange Apples for this year's WYASO, and I look forward to connecting with everyone during the challenge.
---
Walk Your AS Off is an international step challenge, all about getting active for health and raising awareness about axial SpA. It's organised by Walk AS One, and NASS supports this event, alongside other organisations worldwide, to help raise awareness of axial SpA and raise funds to support our vital work.
To join Gillian for this year's Walk Your AS Challenge, which starts on 1 May 2021, please register online, and we'll send you a NASS t-shirt, a bandana if you are walking with your four-legged friend and full instructions on how to count your steps. 
If you would like to show your support with a donation, please visit the team fundraising page.