"I'm taking part in the London Marathon in support of my wife Lucy and everyone who lives with axial SpA (AS)"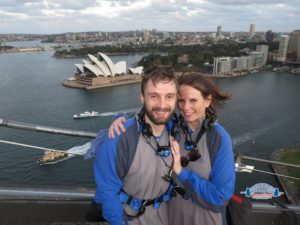 My wife Lucy was diagnosed with ankylosing spondylitis (AS), aged just 33. She had started experiencing symptoms, such as pain and increasing fatigue in her 20's. She was in pain simply getting out of bed, walking around, or getting in and out of a car.
As her partner, it was so awful seeing her in so much pain and knowing there's nothing I could do to help.
As her symptoms progressed, Lucy's doctor referred her to an osteopath. After that, her diagnosis of AS happened quickly, almost by accident.
During her initial appointment, Lucy sneezed, which winded her and caused her pain. The osteopath immediately spotted that she had limited chest expansion, which indicated fusion, and referred her to a rheumatologist.  They sent her for tests which confirmed an aggressive form of AS.
We are so grateful for this quick diagnosis. While Lucy now lives with a fused hip and three fused vertebrae in her neck, which severely limits her movement, the biologic treatment that she's on has reduced the pain and inflammation. This means that the fusing process has slowed considerably and hopefully means her mobility won't reduce further.
It's hard to imagine that you or someone you love can end up with a chronic condition like AS at such a young age.
Before Lucy's diagnosis, we had never heard of AS. It was only when we were Googling information that we came across the work of NASS, and since then, it's become a charity very close to our hearts.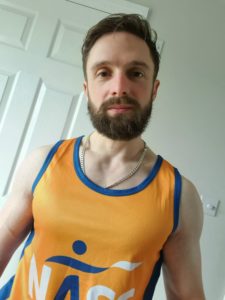 Lucy joined NASS as a Member, and has found the online resources, the AS Newsletter and connecting with others with the same condition through the forum and Facebook page really helpful.
I wanted to show my support too, so I decided to join NASS as a regular giver at the same time. Through one of NASS's regular e-newsletters, we saw that they were looking for willing runners to participate in this year's London Marathon.
Running really isn't my thing. In fact, I've not run longer than 5km in my life, but I wanted to do something to show my support for my wife and everyone else who lives with AS. What is a greater, and more iconic challenge, than the London Marathon?
It's going to be tough training for such a distance, but it's nothing compared to what Lucy goes through on a daily basis.
I started training in earnest a couple of weeks ago, and with six months until race day, I'm making good progress. I'm also delighted that I've already raised over £1,000 to support NASS's work. I've been told that this will make a considerable difference during a very challenging time.
---
Jamie Stern is taking part in the Virgin London Marathon to raise vital funds to help transform the diagnosis and care of everyone living with axial SpA (AS). Please visit Jamie's fundraising page.