In memory of Daniel Knibb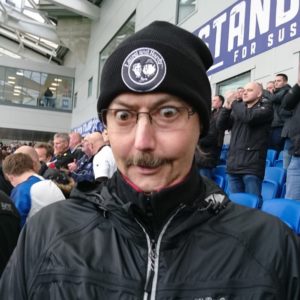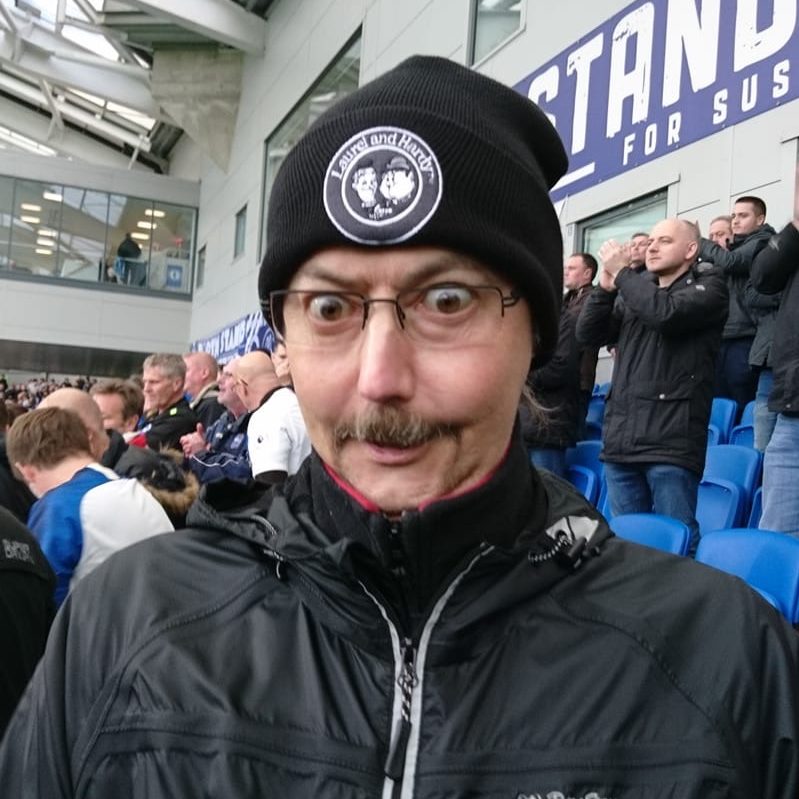 NASS was sad to learn of the passing of Daniel Knibb on 10th March 2020. Daniel was involved with NASS for many years and his contributions to both Brighton and Worthing Branches were felt among many.
Daniel was a member of the Brighton group before going on to be a founding member of the Worthing Group in 1994. He offered support and guidance to those he met through the groups, and his perseverance and personality served as an inspiration to many living with axial SpA (including AS). Beyond NASS branches he shared his love of football, quizzing, blues music and the occasional night out with the friends he had made.
We have collected some thoughts from some NASS members close to Daniel below, to give an insight into how his life touched others.
---
Dan's parents have kindly chosen to collect donations to NASS in memory of Daniel.
If you wish to make a donation you can either send a cheque in "Memory of Daniel Knibb" made out to NASS to:
Ian Hart Funeral Services Ltd, 92-94 Broadwater Street West, Worthing, West Sussex, BN14 9DE
or donate here or here.
---
I knew Dan for many years – from the time we were both members of the Brighton NASS Group (before he helped found the Worthing Branch).  I was lucky to be on more than one course in "The Min" with Dan – the craic was always good when he was about, which helped keep everyone's spirits up through the gruelling physio sessions.   In the evenings Dan was always up for a little socialising, which made the time away from home and loved ones more bearable.  But Dan wasn't always about fun and good times – he was incredibly interested in people and of course people with AS in particular.  He helped many, many fellow sufferers with his in-depth knowledge of the condition and was always ready to share his personal experiences with others, as well as listen to their stories.  Dan was one of the good guys.
– Michael McNeill
---
I met Dan around 20 years ago when going on my first AS course at The Royal National Hospital for Rheumatic Diseases in Bath & attended several following courses with Dan.
He was a great guy to be with and we often bantered about football as he was a loyal Brighton supporter and me being a Crystal Palace Fan. I remember on one course we all went to bingo one night and Dan was so bored he nearly fell asleep.
Dan was a very supportive person and helped me on many occasions.
Dan and Steve Dean supported me when I found myself in the so called Post Code Lottery for funding for biologic drug after doing a five year drug trial.
When ever I met up with Dan I knew i would have a great time and late night!
One memory will always stick in my mind is when Michael Steve Daniel Dan and myself (all AS people) met up in Brighton for a evening out . The look on the taxi drivers face when he turned up seeing all us standing there .
Good night and god bless Dan you will never be forgotten 
– Gillian Eames
---
I first met Dan at a Brighton NASS group in 1990 / 91 and as we lived near to each other we then travelled together each week to the group. I remember that as we often arrived at the hospital gym early we would have a kick about in the gym with a football, as did others that arrived early. Dan holds the accolade of being the only one who ever successfully broke one of the gym windows with one of his over exuberant kicks. 
Around this time both Dan and I also started attending the AS courses at the Royal National Hospital for Rheumatic Diseases RNHRD on a regular basis and we became great advocates of the course as it transformed our level of fitness. Through attending these courses over the years, Dan made numerous friends of course members from throughout the UK such that there is now a nationwide network of people with AS that knew Dan.
After 3 years of regular attendance at the Brighton NASS Branch, Dan helped set up the Worthing NASS branch in 1994 and this group became his 'baby'.  He always nurtured both new and existing members and his enthusiasm for the group is one of the fundamental reasons that the group is still functioning today. Dan worked hard, keeping in regular contact with group members to ensure the group remained operational over the years. He dealt tenaciously with varying restrictions that the hospital imposed on the groups' operation, the varying attendance figures and financial limitations and managed to keep a regular gym and hydro session running all the time.
Dan helped so many many people with AS over the years, providing them with hope, education, friendship and an opportunity to stay mobile and strong via the Worthing NASS group. His strength of spirit and character, like his work, will be greatly missed but will not go unnoticed or forgotten. 
– Steve Dean, Former Brighton NASS chairman and former NASS Trustee.
---
Dan was a true gentleman and a great friend much loved by everyone who knew him, despite having Ankylosing Spondylitis since the age of 18 he never let it beat him, everything awful that (AS) and all its side effects could throw at you it threw at Dan, besides the usual things like fused spine and neck he had to have his lower jaw completely replaced a few years ago amongst other things, and most recently having to undergo dialysis 3 times a week whilst earnestly waiting for a kidney transplant sometime in the future. Dan never complained or felt sorry for himself he just got on with life, he set a fine example and was a great inspiration to all of us.
The thing that drove Dan on was his many interests and his family, he loved football and was a lifelong supporter and season ticket holder of Brighton and Hove Albion football club, often dragging himself there when he feeling poorly and full of aches and pains, he was over the moon when they finally moved into their new stadium the Amex and subsequent promotion to the Premier League.
Dan was also a true lover of Blues music especially live Blues music and had a vast array of CD's, he introduced me to many of these bands which I had never heard of, and I enjoyed going to many gigs with Dan and his mates to see them play, we had some great nights at some great local venues.
Another one of Dan's passions was books, he was an avid reader and had an absolute vast collection and loved browsing through old bookshops, he often told me his favourite job was when he worked in Optimus bookshop in Worthing a few years ago. Dan was also a huge Laurel and Hardy fan and once again had a large collection of DVD's, Posters and other memorabilia.
Dan was also a great quizzer and was in many quiz teams over the years, he should have gone on one of those TV quiz shows he would have made a fortune. He would have made a great phone a friend on who wants to be a millionaire especially on anything to do with literature.
Dan's wonderful collection of Blues will live on as his parents Lorraine and Robin very kindly gave me his iPod as a keepsake, so we can still play his music at the AS Group sessions which everyone enjoyed so much.
Rest in peace old buddy
– Tony Hall