World AS Day 2019
In order to reduce ther delay to axial SpA (AS) diagnosis, we have to increase awareness. So let's make axial SpA #ASfamousAS

It's been a landmark year for NASS, but we're just getting started
In order to reduce the 8.5 year delay to axial SpA (AS) diagnosis, we have to increase awareness. So let's make axial SpA #ASfamousAS we can!
On Saturday 4 May, World AS Day, Simply go out wearing orange…
Walk Your AS Off to your town's most famous landmark…
Take a selfie or have someone take your photo with the landmark clearly visible in the image…
Share it on social media using the #ASfamousAS hashtag as well as a popular hashtag for your landmark (eg. #Stonehenge, #EdinburghCastle, etc) so many more people will see it.
Here's an example tweet: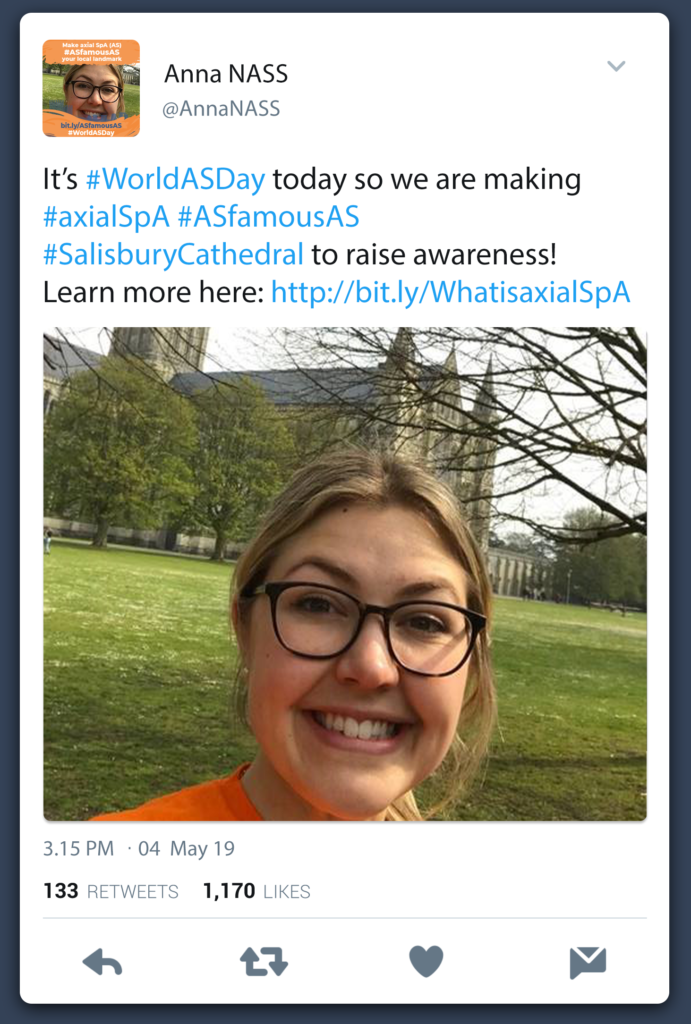 "It's #WorldASDay today so we are making #axialSpA #ASfamousAS #TowerBridge to raise awareness! Learn more here: http://bit.ly/WhatisaxialSpA"
Send the message even further by making your selfie your profile picture and using our Facebook frame or Twitter Twibbon!
Just like Anna has done on the right!
What is Walk Your AS Off?
Walk Your AS Off is a community organisation that holds "virtual" walk events. They walk for health but to raise awareness of Ankylosing Spondylitis (AS) and the family of related diseases. Track your daily steps and set large collective goals. They bring people & teams together from all over the globe, showing that a small group of people can take great strides to change the world. Walk Your AS Off 2019 event begins May 1st!  To register visit https://walkasone.org/team/19/ and sign up for NASS's team "Orange Apples".