MP-led inquiry reveals failings in the provision of axial spondyloarthritis care across England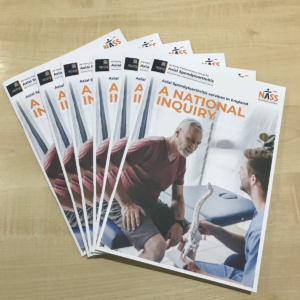 Wednesday 29th January 2020
MPs are calling for urgent improvements in the care available for patients with axial spondyloarthritis (axial SpA), which includes the more commonly known condition ankylosing spondylitis (AS), a painful and debilitating form of inflammatory arthritis, as a new report reveals worrying gaps in care provision across England. The findings from the inquiry by the APPG (All-Party Parliamentary Group) on Axial Spondyloarthritis, are to be launched today by APPG Chair, Derek Thomas MP.
Axial SpA (AS) is a painful, progressive form of inflammatory arthritis which most commonly affects the spine but can also impact upon other joints, tendons and ligaments[i]. Approximately 1 in 200 of the adult population[ii] (around 220,000 people) in the UK have axial SpA (AS) – twice as many as those with multiple sclerosis or Parkinson's[iii],[iv]. The average age of onset is just 24 years[v], with patients having to wait on average 8.5 years[vi] before diagnosis, making rapid referral to specialist care following diagnosis crucial. If left untreated, it can lead to irreversible spinal fusion, causing severe disability.
The findings from the APPG inquiry, based on results from Freedom of Information requests answered by 191 Clinical Commissioning Groups (CCGs) and 99 provider Trusts undertaken in 2019, revealed that only 21% have a specific inflammatory back pain pathway in place – without one, rapid referral to specialist care for those with signs and symptoms of axial SpA (AS) is unlikely.
Axial SpA (AS) can have a hugely detrimental impact on a person's well-being and is associated with significantly increased risk of poor mental health, even when compared with other musculoskeletal conditions. Despite this, only 25% of CCGs provide patients with direct access to psychological services. A fifth of areas in England still do not offer specialist physiotherapy for those with the condition, despite these services being critical in helping individuals manage flare-ups and the chronic stiffness and joint pain that is synonymous with the condition.
Lord Campbell-Savours, Co-Chair of the APPG who led the inquiry and lives with the condition, explained, "As someone who has personally endured half a life time of painful and debilitating symptoms, I am greatly supportive of the need to help patients effectively manage their condition and improve their day to day lives. AS has been under-prioritised by the healthcare system for far too long, with many having to wait over 8 years before being correctly diagnosed. We call for commissioners and providers across the country to do more to improve the speed of diagnosis and quality of care available for those with AS."
National Axial Spondyloarthritis Society (NASS) CEO Dr Dale Webb, said "We hear many candid and shocking accounts from those living with AS which reflect the findings of this inquiry. People with AS deserve better and so much more needs to be done to ensure that those living with this painful and debilitating condition receive the vital care and support they are entitled to. That is why we are working with local services and clinicians to raise awareness of AS and spread best practice via our groundbreaking healthcare improvement programme Aspiring to Excellence."
The inquiry findings and recommendations on improvements needed can be found in the APPG report, Axial spondyloarthritis services in England, launched today and available at here.
---
About the APPG on Axial Spondyloarthritis
In Dec 2018, the National Axial Spondyloarthritis Society (NASS) formed the All-Party Parliamentary Group on Axial Spondyloarthritis to provide national oversight of the implementation of the NICE guidelines and Quality Standard for Spondyloarthritis conditions. The APPG is chaired by Derek Thomas MP and co-chaired by Lord Campbell-Savours (who has axial SpA (AS)). The report will be launched at the APPG's meeting in the Boothroyd Room, Portcullis House, at 1700hrs on Wednesday 29th January.
About the Assessing variation in axial spondyloarthritis services in England report
The APPG undertook an inquiry into the quality of care across England based on NICE guidelines in the area. The results were included in the Assessing variation in axial spondyloarthritis services in England report launched on 16th November 2019. The data included in the report was collected via a survey that was sent to all CCGs and NHS Trusts in England in the form of a Freedom of Information (FOI) request. 191/191 (100%) of CCGs (commissioners)and 99/114 (88%) of provider Trusts responded.
About the NASS Aspiring to Excellence programme
The Aspiring to Excellence initiative is a healthcare improvement programme in axial SpA (AS). Representing the largest programme of its kind in the UK (and possibly the world), it will work with rheumatology services to attain new performance standards and then work with others to drive improvements across the NHS. On 16th November 2019, the first six hospitals that will join the programme were announced, and they are Newcastle upon Tyne Hospitals NHS Foundation Trust, Sheffield Teaching Hospitals NHS Trust, University Hospital Southampton NHS Foundation Trust, Royal Berkshire NHS Foundation Trust, Leeds Teaching Hospitals NHS Trust, and NHS Fife.
---
[i] Taurog JD, Chhabra A, Colbert A. Ankylosing Spondulitis and Axial Spondyloarthritis. The New England Journal of Medicine. 2016; 374: 2563-74
[ii] Louise Hamilton, Alexander MacGregor, Andoni Toms, Victoria Warmington, Edward Pinch, Karl Gaffney, The prevalence of axial spondyloarthritis in the UK: a cross-sectional cohort study, Biomed Central Musculoskeletal Disorders, December 2015
[iii] MS Society, MS in the UK, January 2016 www.mssociety.org.uk, (Accessed 9th October 2019)
[iv] Parkinsons UK, What is Parkinson's, https://www.parkinsons.org.uk/information-and-support/what-parkinsons (Accessed 9th October 2019)
[v] E Feldtkeller, M A Khan, D van der Heijde, S van der Linden, J Braun, Age disease at onset and diagnosis delay in HLA B27 negative vs positive patients with ankylosing spondylitis, Rheumatol Int, 2003
[vi] Mark P. Sykes, Helen Doll, Raj Sengupta and Karl Gaffney, Delay to diagnosis in axial spondyloarthritis: are we improving in the UK? Rheumatology, July 2015