NASS Community Member Gerry Dance to Carry Baton in Queen's Relay
Gerry Dance, 61, has always been a keen runner. His passion for endurance challenges started when he joined the Royal Air Force at 18 and continues to this very day. Like many athletes, Gerry is the epitome of grit and determination. But, in contrast to most of his peers, Gerry maintains his focus while also navigating the symptoms of axial SpA.
He has taken on some of the hardest endurance challenges in the world and has raised an enormous amount of money for NASS in the process.
This July, Gerry will be recognised for all his hard work as he acts as a Baton Bearer in the Birmingham 2022 Commonwealth Games Queens Baton Relay Team, which celebrates the start of the Games.
Gerry was in his 20s when he first started to experience symptoms of axial spondyloarthritis. It began as aches and pains, which he attributed to his active lifestyle. However, as time went on, things became progressively worse. Gerry would experience persistent back pain, back spasms, discomfort in his hips, neck and suffered night sweats.
By his mid-20s, Gerry had left his career with the Royal Air Force and joined British Airways as a Boeing 747 engineer. He later took a secondment to Cabin Crew.  The pain he was experiencing would mean that, at times, he had to use the in-flight service trolley as a mobility aid while doing his job.
On one trip in particular, back in 1990, Gerry's pain became so bad that he had to seek the help of a healthcare professional, when the plane landed at its destination in Australia. Fortunately, the doctor immediately spotted the signs and was able to give him, what turned out to be, an accurate diagnosis of ankylosing spondylitis (a form of axial spondyloarthritis).
Gerry describes feeling relieved but deeply concerned as his future now seemed so uncertain. He continued to have periods of intense pain, flares, where his symptoms would worsen. Things became so bad that Gerry eventually had to leave his job with British Airways and become self-employed so that he could work around his symptoms. He knew movement was key and took up gardening. It was a worrying time with a young family and very little income.
Gerry's GP was excellent, referring him to the Royal National Hospital for Rheumatic Diseases in Bath. He attended several, two week, intensive AS exercise courses, as an in-patient.  These were transformative.  As he came to terms with his condition, Gerry discovered NASS. He joined his local branch and attended hydrotherapy sessions to ease his symptoms. Throughout this time, he continued running, although at times, he could only get as far as the end of his drive. His mantra has always been "rest is rust, motion is lotion".
Over time, Gerry's passion for running grew and he built great friendships in the ultra-challenge community. He has lost count of the amount of endurance challenges he has taken on and has raised thousands of pounds for NASS in the process. In the early days, he ran road marathons, including the London and Amsterdam Marathons, while wearing a bright orange Morph Suit emblazoned with the NASS logos.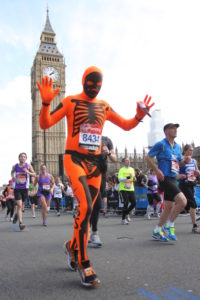 Gerry credits his wife, Mandy, who has supported him tirelessly from the day he was diagnosed and was the mastermind behind the Morph Suit and making the colour orange, synonymous with NASS!
Road running became too painful for his bones, even when taking anti-inflammatory drugs and painkillers (which he still needs to take twice every day, to this day, to get through) so he moved onto trail running.  Most recently (June 2022), Gerry took on and finished The Montane Summer Spine Race in 129hrs 52 mins, a 268-mile, non-stop race, with a time limit of 156 hours.  It covers the full length of The Pennine Way, also known as The Spine of England. It is hailed as one of the world's toughest endurance challenges.  This was the second time he had completed The Spine race, in 2021 he finished in an excellent time of 124hrs 26 mins. NASS is the charity partner of The Montane Spine Races, set up by NASS Chairman, Raj Mahapatra, who has also completed this incredible challenge, several times.
Inspired by Gerry's drive, motivation and enthusiasm, using his passion for endurance challenges as a way to raise funds and awareness for axial SpA, Physio and fellow trail runner, Mandy Fitton, nominated him as a Baton Bearer for the Queen's Relay. Out of 1,000s he was selected to be one of the 2,022 Baton Bearers in the UK.
The Relay sees people from around the world; carry a specially made Baton, with a message from The Queen inside. The torch has been travelling since 7th October, 2021 and has been on a 294-day journey through every part of the Commonwealth before arriving in this years' venue in Birmingham.
People nominated to carry The Baton are those who are figures of inspiration, who positively challenge others to achieve their best.  People with a unique and inspiring story.  Those who have made a positive contribution to their local community.  The friend who nominated Gerry felt he would be perfect, and at NASS, we couldn't agree more!
Gerry will carry The Baton in Ironbridge, Shropshire, on Tuesday 19th July. We'll be cheering him on and know that the NASS community will be doing the same.
Good luck, Gerry! And thank you.