"She couldn't see the pain or fatigue he has to endure…"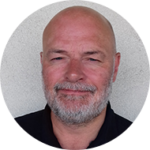 My name is Garry Williams, and I am a Helpline & Branch Support Officer at NASS. I help people living with axial SpA (AS) with questions about UK disability benefits. 
COVID 19 has worsened the already serious financial difficulties that people living with a long-term health condition like axial SpA (AS) face. Sadly, this is having a detrimental effect on people's physical and emotional well-being and their ability to manage their condition, making it harder to live well.
I've spoken to so many people who have faced hardship as a result of the pandemic. From people having to spend more on safely getting food and travelling to and from medical appointments, to those who are paying more for vital care. It's likely that over the coming months, many people will be encountering the benefits system for the first time.
I know that sometimes it can be hard to ask for help. There is still a lot of stigma around claiming benefits or asking for financial support. The bureaucracy can put people off applying. It's also common for people with axial SpA (AS) to feel judged or misunderstood because of the difficulties of explaining how the condition affects them. It can feel uncomfortable having to justify why you need financial support.
I recently helped a young man who was told "well you look fine to me" by an occupational therapist.
I recently helped a young man who was told "well you look fine to me" by an occupational therapist who was visiting his home to do an assessment for aids and adaptations. This reduced him to tears as he felt she was implying he was fabricating or grossly exaggerating his disability. She couldn't see the pain or fatigue he has to endure.
People living with axial SpA (AS) are some of the most resilient people I know. I'm always amazed by how much pain and fatigue people can live with, and how they continue to adapt and live their lives around the challenges they face.
If you live with a disability, you are entitled to benefit support by law, and I am here to help you access that support.
Axial SpA (AS) is such a complex, variable condition. It can be tough to explain how it affects you in a way that fits the criteria used to assess PIP and other health-related benefits. But I can work with you to provide a personalised letter of support for your disability claims and help you to express yourself and put your case to the assessors in the best way possible.
These letters of support can be submitted alongside medical evidence from your doctors. They help explain axial SpA (AS) and how it affects you on a day to day basis. And they work. In the last year alone, I supported 158 people with their Personal Independence Payment (PIP) claims and Work Capability Assessments, and helped them to secure £940,000 in benefits.
Thank you to everyone who helps to make this possible.
The support I provide is always tailored to the individual, is completely confidential, and always free of charge. Being able to help is so rewarding, but I am only able to do what I do because of the kindness of our supporters, our members, our donors and our fundraisers. NASS receives no government funding, and that is I am personally so grateful for everyone who donates to support our work.
Your support also helps NASS provide a small Welfare Fund, which people can apply to for support. We can't give cash, but we can use it to help people buy things they might need to improve their lives. Earlier this year, we were able to buy someone a mattress as his current one was very old and worn, and it wasn't supportive enough. We also bought someone struggling with night-time incontinence a new washing machine.
Disability can be associated with increased levels of poverty for a wide range of reasons, but together, we can ensure that no-one has to face axial SpA (AS) alone.
For further information please visit our Benefits Advice page. Alternatively, you can email Garry or contact our Helpline team for further support. Garry and the team are available from 10 am until 4 pm every weekday.
We can only continue our services with your support. Thank you.
Donate