"The chance to connect throughout the pandemic has been so important"
Rory Barke, 64, is a retired local government official who lives in Yorkshire with his wife Sheila and their dog, Matilda. Here, Rory shares his story of axial SpA (AS) diagnosis through to leading our York branch through a pandemic.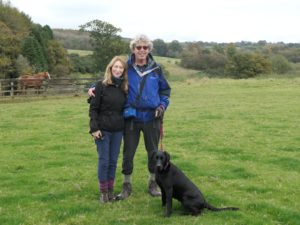 I must have spent a small fortune on chiropractors, osteopaths and various alternative therapies throughout my life to treat the pain I've experienced for as long as I can remember. It started to get worse in my 40s when my joints began to swell around my wrists, knees and fingers. 
Commutes were a nightmare. Axial SpA (AS) is an invisible condition, and I looked pretty fit, but inside I was in so much pain and just so exhausted. Standing on the train on my way to work, I would look at the seat for the disabled but never had the courage to go and ask to sit there, afraid that other passengers would think I was a fraud. The fatigue could be overwhelming, and it took a lot to make it into work and function. 
I finally got a diagnosis for axial SpA (AS) in my mid-50s and found out about the NASS York Branch through a hospital poster. 
It was a life-changing moment for me to finally talk to people like me who understood what it was like to live with this condition. 
I'd been going along to classes for around two years when the previous Chairperson retired, and I decided to volunteer to fill the role. It has been an enriching experience so far.
COVID has brought with it new challenges, but also some silver linings. Our branch Secretary Paul was quick to get the exercise classes organised over Zoom and took great pains to ensure that everyone who wanted to participate could understand the technology. 
Eight of us attend a weekly session with a physiotherapist from York Hospital. A small group means that the physiotherapist can keep an eye on each of us to ensure we are doing the exercises correctly and aren't getting into any trouble! One physiotherapist, Gareth, has been very creative with his sessions which are all themed to the Olympics. You would have to laugh to see us attempt dressage or curling! 
Initially, we started with 40-minute free Zoom sessions but then agreed to buy the full price package as we enjoyed chats before, during and after our classes. We also set up a WhatsApp group early on to check in with each other, and this has become a place where people can share anything from worries to congratulations! We recently celebrated the birth of a member's granddaughter. Another member has set up a Book Club which has been a big hit.
The chance to connect throughout the pandemic has been so important for all of us. I believe it has been beneficial for our overall wellbeing.
If you're thinking of joining a NASS group, then I recommend you do it right away. You will be helped with exercises to keep your spine flexible, which is crucial in keeping AS under control. You'll also meet other people, virtually or in person, who 'get it'. That level of empathy has been fantastic to help to get through tough days.
---
Rory is just of the thousands of people with axial SpA (AS) who benefit from regular classes delivered by NASS branches, and weekly Facebook Live sessions to help manage their symptoms during lockdown. 
Please 

consider making a donation today

to support our Winter Appeal. With your help, we can help everyone living with axial Spa (AS) to feel connected, and supported to manage their condition during this challenging this time.
Click 

here

 to find out more about your local NASS branch support.