Third APPG takes place and your chance to get involved
The third meeting of the All-Party Parliamentary Group for Axial Spondyloarthritis took place on 29 January at Portcullis House in Westminster.
It was our largest meeting yet, with 80 attendees. The meeting focussed on the delay to diagnosis, something that we know is close to the hearts of a lot of our members.
Huge thanks go to our speakers: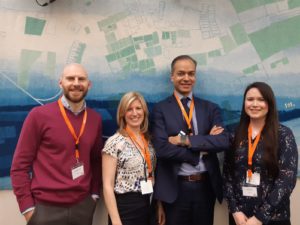 Zoë Clark who gave an emotional account of her 7 year wait for a diagnosis
Dr James Prior from Keele University who summarised the latest research in the area
Rebecca Adshead, physiotherapist at Whipp's Cross Hospital, who gave an example of good practice, presenting on how the delay to diagnosis had been reduced locally
Dr Raj Sengupta, Consultant Rheumatologist the Royal National Hospital for Rheumatic Diseases, who presented the draft Gold Standard to Diagnosis
A lively discussion followed, with a range of suggestions from the audience, a mix of people with axial SpA (AS), commissioners, NHS England representatives and health care professionals. Many thanks to everyone who came along and contributed to such a wide-ranging and engaging debate.
We were also thrilled to launch the report into our National Inquiry into axial SpA (AS) services which you can read here. The APPG will now take forward plans to use the report to improve services around England including parliamentary questions, requesting a meeting with relevant government ministers and proposing a debate.
Support NASS in the next steps with our report.
Now that we have launched the report 'Axial Spondyloarthritis services in England: A national Inquiry'. We are now looking for your support to help us lobby for the key recommendations in the report in your area.
Please get in touch with Jill Hamilton to find out your local results and tailored recommendations. We will also send you a template letter to send to your MP, and also a template for your MP to sent to your local Clinical Commissioning Group with the local recommendations included.