Could you be a NASS Trustee? Nominations now open!
NASS is looking for four people to serve on the Trustee Board at the next election.
The main duties of a trustee are: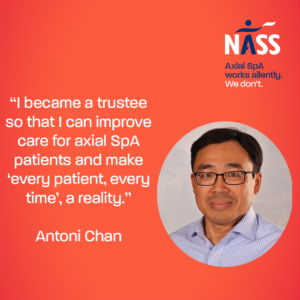 Ensure that the charity is carrying out its purpose for the public benefit
Ensure that the charity complies with its Constitution, charity law, company law and any other relevant legislation or regulations
Act in the interests of the charity
Manage the charity's resources responsibly
Act with reasonable care and skill
Ensure that the charity is accountable
In addition, trustees should contribute actively to the Board in its role to provide clear strategic direction, working with the Chief Executive in setting the strategy
Trustees should use any specific skills, knowledge or experience they have to help the Board reach sound decisions.
Who are we looking for?
On this occasion we are looking for a Treasurer, a health care professional and two others to join.
We are also particularly interested in encouraging people who have experience in communications and marketing as our public awareness campaigning  grows.
What is the time commitment?
Trustees are expected to attend all four Board meetings each year. In addition, trustees are encouraged to attend some of the events organised by NASS including NASS Voices conferences and meetings of the All Party Parliamentary Group on axial SpA (AS).
The Treasurer will also be a member of the Finance and General Purposes committee which also meets four times a year.
Important information to note
You must be a NASS member to stand
All nominations must be seconded by two current NASS members
Nominations close on 28 July 2022
The results will be announced at the AGM on 24 September 2022
All NASS members will be able to vote for the nominees
Trustee Role
Download the Trustee Role Description
Download the Trustee Nomination Form
Download the Trustee Nomination Form for Health Professionals
Treasurer role
Download the Treasurer Role Description
Download the Treasurer Nomination Form