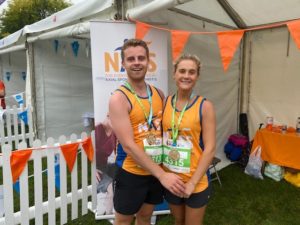 Join Team NASS for the Royal Parks Half Marathon on 9 October 2022, and help us win the race against axial SpA!
Axial SpA is an inflammatory disease of the spine and joints. It's invisible and leaves people feeling powerless, in increasing pain and extreme exhaustion. It's progressive, so every year that passes without treatment can lead to more serious damage. If left untreated, it can freeze the spine and permanently fuse bones.  It's a race to stop its progress. 
This half marathon is truly a run to remember. This 13.1-mile route takes you past some of London's world-famous landmarks and four of the capital's eight Royal Parks – Hyde Park, Green Park, St James's Park and Kensington Gardens.
Event information:
Date: Sunday 9 October 2022
Location: Start and finish in Hyde Park, London
Distance: 13.1 miles
Registration fee*: £25
Minimum sponsorship pledge*: £350
*Registration fee and minimum sponsorship are for a guaranteed charity place. If you have your own place to run through the ballot, there are no minimum sponsorship targets, but you still get all the same great support
Join #TeamNASS and receive:
NASS running vest to wear on the big day
Fundraising pack and fundraising support to help you achieve your sponsorship target
Pre-run meet and greet (social distancing permitting!)
Plus, you'll be joining an incredible community of people helping us provide specialist support, advice and the most up-to-date information to empower everyone living with axial SpA to manage their condition.
Register today
Register online using the form below, and reserve your place on the start line with #TeamNASS! If you are lucky to secure your own place through the public ballot, we would love to welcome you to the team.
Please visit The Royal Parks Half Marathon website for more details about the race, or contact Laura Hyde at fundraising@nass.co.uk if you have any questions.
Royal Parks Half Marathon 2022