"I've been struggling with various aspects of my body and mind for since I was 22; seemingly isolated events such as inflammation of the Achilles heel (which was probably in fact plantar fasciitis), sciatic pain, extreme exhaustion, anxiety disorder and moderate to severe depression leading to suicidal thoughts. Over 16 years, no GP could piece together these scattered symptoms. I would ask for help with sciatic pain but the rudimentary leg-lift tests told them I did not have sciatic pain, therefore we were no further forward. In hindsight my active lifestyle and vocation was probably masking my condition by making it less severe.
About 5 years ago I got acute and instantaneous pain in my lower back whilst brushing gravel off a drain cover at work, which resulted in me remaining stooped forward for 9 days. I had never experienced or seen anything like it and was terrified I would never walk upright again. However the GP I spoke to on the phone reassured me I would be fine without any help within days. I was so relieved and felt rather foolish! Importantly, I continued to update my GP and ask for help with what turned into almost constant lower back, hip and sciatic pain and 9 months of not having full range of movement in my lower back and hips. I couldn't do my job as I had in the past and couldn't even walk as I had before.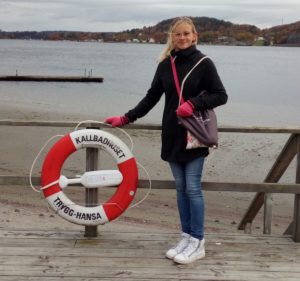 The key to getting help from specialists was to mention my full range of symptoms including the shooting pain down the back of both legs. Luckily for me a friend, an exceptional physiotherapist, insisted on helping me as I didn't understand what had happened to my body. We had already started working on the assumption of the above diagnosis but still the recovery that followed was not typical according to my physio. She suspected an underlying condition that required a specialist to investigate all my years of symptoms in order to reach a diagnosis. This is how I first met Dr Coy. My physio was kind enough to drive me to Salisbury hospital and join me for the appointment with rheumatologist, Dr Coy, in case I couldn't explain myself clearly enough to reach a diagnosis quickly. I was immediately sent for a blood test, x-rays and MRI and was given a diagnosis of non radiographic axial spondyloarthritis.
The diagnosis brought a mix of emotions, mostly relief, but also fear and the horrible prospect of having to tell my Dad who carried the HLA-B27 gene. I knew passing on his condition, which his brother and sisters had to varying degrees, was his greatest fear. However, on hearing the news, he immediately said how much research has been done on the condition recently and the wonderful drugs available these days. The ten years of his life when he was allowed biologics were his best.
Since Dr Coy started tracking my progress I've had huge variations in pain. She believed Etirocoxib helped according to my results on the Bath indices, but I insist progress was made thanks to lifestyle changes. I continued to take as high a dose as my stomach would allow. When the pain in my right hip prevented me from putting my weight on it, we reached a crucial point. I tried a ten day course of steroids for the first time in my life. The morning after my first dose I woke up in no pain, and I realised I had forgotten what that felt like! It was truly amazing. The sweating and hot flushes were an unpleasant side effect but I could deal with that, if the pain relief lasted. However, on the second day, the pain was back and my body had become resistant to the treatment already.
It was worth seeing if we could help or solve the lack of weight-bearing hip joints by strengthening exercises from NHS physiotherapist Claire Fry. It became clear I was actually quite weak, which shocked me. I started off with her exercises. I then moved on to army style boot camp training I found on a DVD and progressed to exercises I could only dream of achieving before. Simultaneously I re-discovered the relief and benefit of dancing, something I prefer to do in clubs and bars, but some may prefer the comfort of your own home.
As I got stronger and gained fitness and confidence I agreed to cover the 90km cycle of a half ironman, in a team with two of my bosses. The training was gruelling and hideous at times but I regret nothing. I became so strong, fit and determined and I have since raced in a 10k trail run on Exmoor and completed the Salisbury half marathon in less than two hours. Admittedly I now have my feet up while writing this and I'm ignoring the pain of plantar fasciitis and arthritis in my big toes. But I don't care, because it doesn't matter, I'm so happy with my daily achievements it feels like no pain or set back can touch me anymore.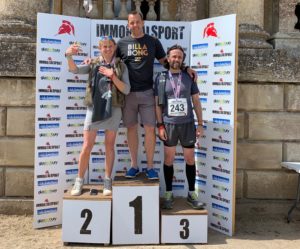 I had an appointment with Dr Coy on the 10th of May, two days before my 90km relay cycle race, and she was amazed and delighted by my improved Bath indices. She asked me how much and which medication I'm taking and I admitted I hadn't taken anything since the 26th of February. She was surprised to say the least. Stopping smoking and drinking helped a lot, but the training, research into my condition and experimenting with what my body will endure has been key. I thought I was fit before but this is a whole different level. Dr Coy said I was on the cusp of needing to start biological treatment. Instead I've adapted my life to require nothing but exercise, ice baths and lots of support to allow me time to train. Dr Coy did also point out that even if we had gone down the biologics route, exercise still plays the biggest role in reducing the effects of axial SpA.
My own physiotherapist said swimming could help me, especially when my body won't allow me to do other exercise. So I've fought my fear of water to learn the front crawl, with the help of swim coaches and support from the people around me. Next up is putting my training together to complete a sprint triathlon in the spring to get ready for Swedeman Xtriathlon in the summer, in support of NASS and to raise awareness of AS of course.
I can't stress the importance of pooling every resource you can to help you on your journey. I know I'm  lucky to have seen specialists, from psychiatrists to orthopaedic surgeons, but much of the work was done by me talking to people to gain more experience and knowledge. I will forever be grateful to the NHS for the enormous support I receive and for help understanding that I need to do most of the work myself. I've taken control over my pain and fear, in order to get out of bed and fight the urge to give up. Every day.
Good luck everyone, Emily Utgren."