Kathy Miller is a long term supporter of NASS, she has been living with the symptoms of AS since childhood and after a long journey, received a diagnosis in 2000. She joined her local NASS Woking and Weybridge branch the next day and is now the chair of the group.
2019 was a challenging year for the branch and she tells us her story of how they overcame the problems they were having:
The branch faced quite a dilemma at the beginning of June when I received an e-mail from St Peters hospital informing me that as of the end of June, the gym and hydro pool would be closed. Jill from NASS tried to dispute this decision; however no action was possible as planning had already been approved and the timescale was very short.
I took over as Chair of the branch a few years ago when our old Chairman moved away, and I was absolutely determined to not let the branch fail. Over summer I made enquiries at every private hydrotherapy pool in the area to see if I could hire a pool for an hour once a month. However, the cost was way beyond what we would realistically be able to afford.
Fortunately, I managed to negotiate continued use of the gym and pool until the end of September with the very helpful Director of Planning & Contracting, Stephen Hepworth. He also gave use of a large room on site where we could hold our stretching sessions. We just needed to buy equipment and NASS very kindly sent us some Swiss balls, mats and head cushions which at least would get us started.
A major problem for the branch has been low membership, we had been running at a loss for over 18 months, gradually working our way through the savings we'd built up over the previous 17 years. Some drastic action was needed otherwise we would be looking at branch closure. We may not have many members right now but to our regular attendees, it's a real lifeline – somewhere they can be comfortable, exercise within their limits and talk to physios and other members about any new problems.
One of our young members, Jess Prevost fundraised as she made her first ascent of Snowdon with her husband, family and dogs. She did such an amazing job in vile weather, successfully reaching the summit and raising a magnificent total of £706!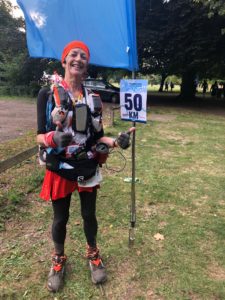 Then, in September, I took part in the 100km Thames Path Challenge, walking from Putney to Henley. Despite suffering a spontaneous back injury at 63km, nothing was going to stop me finishing and making all my wonderful sponsors proud. I completed the challenge in 19 hours 54 minutes. I was so proud.
After the Thames Path Challenge, I was having a haircut and was chatting to someone about my fundraising and why I was doing it. When I mentioned the loss of our hydrotherapy facility, they asked if I tried asking at the local special needs school in the village which had its own hydrotherapy pool.
I immediately fired off an e-mail which resulted in a meeting with the premises manager at the school a couple of weeks later. What a day that was! He showed me the pool somewhat apologetically but to me it was the most marvellous sight! The pool at St Peters had been tiny, only taking a maximum of 4 people, so we'd only been able to hold half hour hydro sessions onc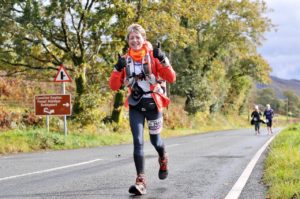 e a month. This pool was massive by comparison! He agreed that hiring the pool once a month was perfectly possible and asked when we'd like to start. It was also by far the cheapest pool I'd looked at so far. I went home and looked at the fundraising figures so far and realised that now we could have hydrotherapy once again!
Running the Snowdonia Marathon Eryri six weeks later was my second fundraising challenge and an even tougher one! The back injury was still causing problems and on the big day, I really wasn't my best with both hips not playing ball. Again, there was no way was I going to let my amazing sponsors down and I finished the marathon in 7 hours and 1 minute. I was over the moon to have raised a further £1839 for the branch. Now we would be able to buy some new equipment for our weekly sessions and ensure the future of the branch for a couple of years at least.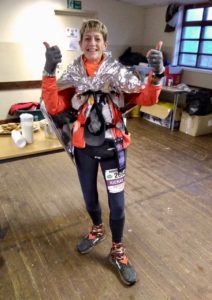 Everyone loves the hydrotherapy – that feeling of less pain and being able to move more is just wonderful. We held the first session in our new pool on 5th November and Katie from NASS came down to help us celebrate by joining on our session. Everyone absolutely loved it and I knew the that the group had truly found their new 'hydro home'.
After our amazing fundraising success, I soon worked out that we could actually afford hold hydro sessions every two weeks rather than once a month so we've put that into action straight away. The next job will be to order a little more hydro equipment plus some new equipment for gym sessions so that we can expand the range of exercises that we do. 
I'll certainly always be stubborn, determined, support NASS and keep spreading AS awareness!
Well done to Kathy and everyone at Woking & Weybridge branch for their time, energy and fundraising efforts to keep the branch going.