How many of us can still remember our New Year's Resolutions in July?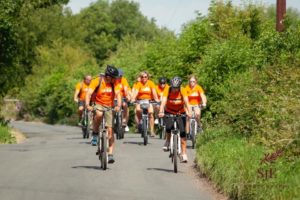 Sandra Bull certainly did this year, when on 7 July she completed a 24-mile fitness challenge which was followed by a fundraising bbq at her home!
Sandra was diagnosed with AS at the age of 21 and has since found that keeping fit and active helps her a lot in managing her condition.
At the start of 2019, Sandra decided that whilst she is fit and well enough, she wanted to combine a fitness challenge with fundraising for NASS, and the idea of her sponsored cycle and walk to Glastonbury Tor was born.
On 7 July she was joined by 12 family and friends to complete the 20 mile cycle, and then a few more for the final 4 mile walk up the Tor and back again. They then all headed back home for a celebratory BBQ with even more friends and family.
Sandra says "It was such a great day assisted by amazing British weather! I am extremely lucky to have had the support of family and friends both on this day but also on a day to day basis. I may even go another next year………."
Huge congratulations to everyone who took part, and to the incredible Sandra who raised a total of £700 for NASS.