Rob and Catherine Palmer's mum was diagnosed with AS in 1997.
"Those who know me and my family well will know that my Mum, behind the brave front and smile suffers on a daily basis. The pain she endures, the discomfort and debilitating symptoms of the condition is heart breaking to see. I have seen her at her best and unfortunately at her worst, this invisible disease can allow a normal life one day and be crippling the next." – Rob
Despite not being keen runners, in 2018 they decided to take on the Cardiff half marathon, recruiting Rob's wife Emma into their team!
"Along the way I would like to support a society that does great work for suffers of AS and their families, helping them manage the condition. Treatment can help and hinder, which is why the support of NASS is so important." – Catherine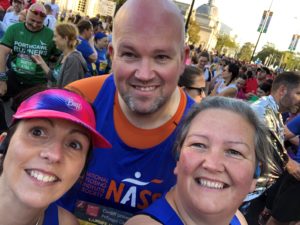 Between them they raised a total of £656.25 for NASS. But they didn't stop there.
It's seems they caught the running bug and in 2019 they decided to get the team back together and fundraise even more.
"As most of you that know us, we are not natural runners, so we have one again set The Cardiff Half Marathon as a team goal with the hope of finishing slightly faster than last year 🙂 We want to continue to support an organisation that carries out great work, for suffers of AS and their families." – Emma
They raised another £618 for NASS bringing their grand total to £1,274.25. Thank you so much to the whole team and all their sponsors for helping us to support everyone living with Axial Spondyloarthritis including Ankylosing Spondylitis.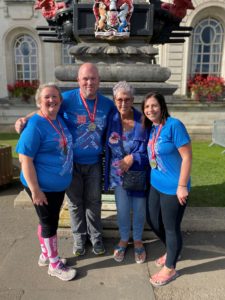 Rob is now going even further for NASS and running the London Marathon next year.
"Training is going well, a little slower than I wanted but the cold weather and short days are challenging. I'm following a plan that has been designed especially for me with a mixture of running techniques as well as swimming and cycling. I will keep everyone updated with how things go." – Rob
You can find out more and support Rob on his JustGiving page.