"I first showed symptoms of AS when I was 20 and in my third year (of four) at university in London training to be an osteopath. It was very difficult to finish my degree and when I look back I'm actually surprised that I managed to. I can put this down to the amazing support I received from my family, friends and the university (particularly the registrar Kasia!). When I first showed signs of an inflammatory arthritis the symptoms I experienced were most severe in joints other than my back, so I was diagnosed quite quickly with Rheumatoid Arthritis and then later Psoriatic Arthritis.
Over about five years under the care of a second rheumatologist, my back pain became progressively worse and my symptoms weren't responding to the Psoriatic Arthritis treatments. I found diet changes helped ease my symptoms a little, but they were not fully controlled. After doing my own research and reading about other people's experiences, I sought a consultation with a new rheumatologist. Previously my back stiffness and pain had been put down to my hypermobility (I also have Ehlers-Danlos Syndrome), but after scans and blood tests, it was confirmed that I did have Ankylosing Spondylitis. I was only formerly diagnosed just over a year ago. In the seven years it took me to be diagnosed, I progressed to having joint damage, but I think I'm lucky to have as little as I do.
I chose a career in osteopathy after seeing my Mum have treatment for back pain and then I had treatment following a hip problem (I now look back and realise it was probably inflammatory). I think without my medical knowledge, I may have carried on with the Psoriatic Arthritis diagnosis while my back pain was getting worse and not pushed for a second opinion.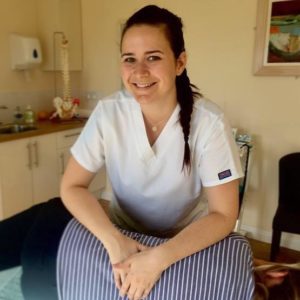 My pain and fatigue used to be more severe and limit my activities a lot, but since receiving the diagnosis of AS and starting biologics, my symptoms have improved greatly. I now feel more hopeful about my future work/life balance. The main modification I make at work is limiting the number of patients I see in a day and taking regular breaks. I want the last patient I see in a day to receive the same quality treatment that the first patient does, so I can't over do it. I have to follow my own advice and pace myself!
One of the biggest changes recently is that I've started using a stick when I'm out and about to help with the hip and back pain. It's been really helpful to reduce flare-ups and it acts as a visual sign to someone that I may need a seat on public transport or may need some assistance. It's taken a little getting used to, but my friend likened it to someone using a dishwasher instead of washing up by hand; if it helps make life easier, why wouldn't you consider doing it?
I went into osteopathy because I wanted to help people and a silver lining of having AS is that I'm able to empathise with patients more and I certainly know that you can't guess how people are feeling by looking at them. It's also led my work into an area that I probably wouldn't have focused on before and I'm proud to help play a part in improving the knowledge of axial SpA within osteopathy and hopefully help people receive the right diagnosis and treatment sooner than they would have previously.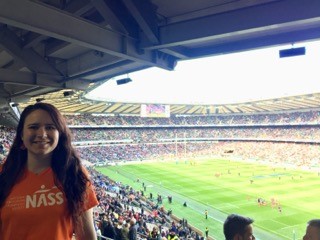 It's been really exciting to work with NASS and the Institute of Osteopathy as part of the NASS Allies programme, improving the knowledge of axial SpA within osteopathy and chiropractic. I'm really passionate about the role osteopaths can have in screening people for axial SpA at an early stage. From my own experiences, some of the knowledge taught at undergraduate level isn't up to date and I don't think the awareness of axial SpA is high enough. Osteopaths spend an average of one hour with patients in their first appointment, so we have the time to ask about all the symptoms of axial SpA that can come and go. From my own experience and from talking to patients, it's easy to not realise how many different symptoms are due to axial SpA and we rationalise them by blaming things like our desk set up or a change in exercise regime, when it could actually all be linked to axial SpA.
I also think it's really important for manual therapists to know how to modify treatment to help people living with axial SpA and what advice to give. I recommend shorter treatments and I never recommend joint manipulations, even if a recent MRI shows no joint changes. There's a link between axial SpA and reduced bone density, so we need to be very cautious.
Whenever I see someone with axial SpA, I will write to their GP and rheumatologist to make them aware that they're receiving osteopathic treatment. Some people find osteopathy helpful for relieving symptoms or helping tailor an exercise plan, but I recognise osteopaths are just part of the healthcare team and we need to all work together for the patient's benefit."
---
Zoë's top tips for managing axial SpA
Take each day as it comes and be kind to yourself. Find techniques that work for you and recognise that they may change over time. For example, I find mindfulness techniques are really helpful if a flare is stopping me from sleeping.
Have lots of pillows to help you find a comfortable sleeping position and consider getting a mattress topper if you have a firm mattress. At the moment I have to sleep on my side with my arm resting on a pillow to avoid aggravating my ribs, so pillows really come in handy! Lack of sleep makes the pain, fatigue and brain fog worse so I'm always looking for ways to improve my sleep.
Find supportive friends and family to surround yourself with. Meeting other people with axial SpA through a NASS group or online can be really helpful to share tips or provide support to each other. I've got a lot of close friends who I met through having AS and I think they're all pretty badASs!
Find a health team that you can work with to help manage your axial SpA. If you can find a rheumatologist and nurse who is approachable, listens to you and allows you to advocate for your health, then keep hold of them. It's so important to find people who want to work with you, rather than tell you what to do.