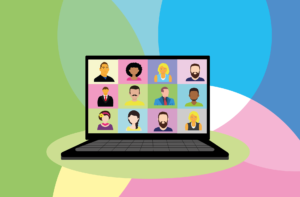 NASS Bristol has been running from Southmead Hospital since 1998. Since March 2020, we moved to online stretch sessions due to COVID-19.
We run physiotherapist-led online stretch sessions every Monday at 1930,   Wednesday at 1830 and Thursday at 1000. We also run other online sessions including Pilates, seated Zumba and relaxation. Please ccontact us for more information.
If you're interested in joining us, please email and we will send you a medical questionnaire for you to complete before starting the session.
Cost
Special offer! 4 sessions for £10 for newbies
First session: Free
Individual sessions: £6 per session
Monthly sessions: £20 per month – to paid on the 1st of the month.
We are a friendly bunch of people, who welcome new faces to the branch. Since starting the online sessions, we have welcomed many people from different parts of the country.
You can find us on Facebook, Instagram and Twitter.
Pease note that you must have a UK diagnosis of axial spondyloarthritis (Axial SpA) or ankylosing spondylitis (AS) to attend.
NASS Bristol
Fill in this form below to contact NASS Bristol