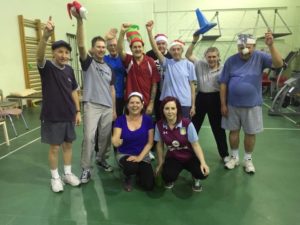 Cost: £5 per session towards fees for the pool, equipment and the physiotherapist.
Welcome to NASS Cannock branch. Our group meets on Mondays for gym or hydrotherapy. The group varies in age and ability, and each session is adapted to each individual needs, by the attending physiotherapist.
Our gym session includes a mix of circuist on the gym equipment, stretches, mat work, games and gym ball work. Our hydro includes stretches and games.
Most of all, the branch enjoy the social side and have a lot of fun, we don't take ourselves too seriously. We are an easy going group and are very supportive of each other.
We meet socially three times a year to fund raise for our group, this includes a quiz, skittles and a race night in a local social club. We also meet up for a Christmas Meal.
Please note that you must have a UK diagnosis of axial spondyloarthritis (Axial SpA) or ankylosing spondylitis (AS) to attend this branch.
NASS Cannock Chase
Fill in this form below to contact NASS Cannock Chase