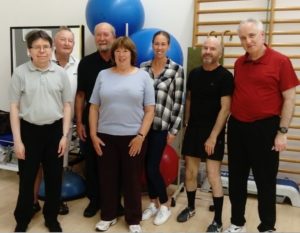 We are currently running online stretch sessions every Tuesday at 18:00. Please contact us for more information.
Cost: £20 per month for both physiotherapy and hydrotherapy. If you only want physiotherapy OR hydrotherapy the cost drops to £10 per month. The first four sessions are free for newcomers!
We're a fun and friendly group who have been meeting for many years. We welcome any new members on board. All new members need to come along to one of our gym sessions and be assessed by our physiotherapist before trying a physiotherapy session.
Our gym sessions are held from 1900 to 2000 on the 1st, 3rd and 5th (where relevant) Monday of each month. We run our hydrotherapy sessions on the 2nd and 4th Monday of each month. All sessions are led by a fully qualified physiotherapist with a special interest in axial SpA (AS).
Please note that you must have a UK diagnosis of axial spondyloarthritis (Axial SpA) or ankylosing spondylitis (AS) to attend this branch.
NASS Horsham
Fill in this form below to contact NASS Horsham