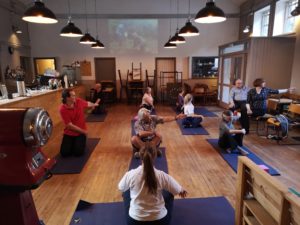 Cost: £6 per session
We meet on the first Monday of the month, unless the first Monday is a bank holiday when we move to the following week.
Please do get in touch  if you would like to come along. We are keen to recruit new members.
We meet for gym exercise at the Friends Meeting House in Lancaster. We use mats to exercise using a structured programme which has been tailored by a qualified physiotherapist. Exercises are tailored to match each person's capabilities and chairs are available for those who find it a challenge to get down to and up from the floor.
 Please note that you need to have a UK diagnosis of ankylosing spondylitis or axial spondyloarthritis to attend sessions.