Cost: £20 per month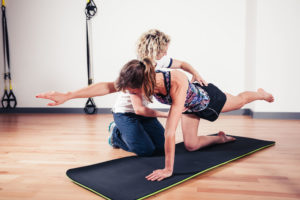 We run both a group physiotherapy session with the physiotherapists at St George's Hospital in Tooting and a Pilates class at Westside Church in Tooting. They run on alternate Wednesday's.
That means we have two sessions at St George's and two sessions at Westside Church each month. You can choose to attend all the sessions or just the ones in your preferred location.
Our Pilates classes are led by Melanie who trained at Central School of Ballet, London and has also studied Pilates and yoga. Throughout her career Melanie has taught dance to all ages. In 2015 she was the contemporary dance mentor for the BBC Young Dancer of the Year competition.
Melanie's stretch class will ask you to focus on your breath while encouraging you to develop flexibility and alignment of your body. Working through a set of structured exercises drawn from knowledge acquired from her career in dance, Melanie will help you lengthen and strengthen whilst developing better posture and core stability. The class aims to leave you feeling more relaxed, mindful and aware of your body.
Please note that you must have a UK diagnosis of axial spondyloarthritis (Axial SpA) or ankylosing spondylitis (AS) to attend this branch.