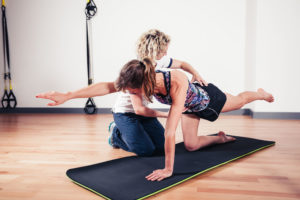 Cost: £30 per month (Concessions £20 per month – over 65s and Blue Badge holders). First session is free.
We meet using Zoom every week at 19:00 and sessions last for just over an hour depending on how much we chat.
Our sessions are led by a fantastic sports therapist who really understands axial SpA. We do warm up stretches, followed by a series of specific exercises with a break between each one. We have an extended break halfway and my OH gives a weather forecast (don't ask – it started in lock down and now it's part of every session!). We finish with some band based exercise and cool down stretches. It's usually around 8:15 when we close.
We have a WhatsApp group for messaging and giggles.
Please contact us if you'd like to join our sessions.
Please note that you must have a UK diagnosis of axial spondyloarthritis (Axial SpA) or ankylosing spondylitis (AS) to attend this branch.