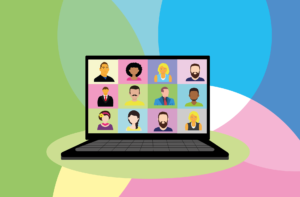 Our all-UK NASS Online Branch, launched in August 2023. It is aimed at those who may not have access to a local NASS branch or prefer to exercise from home.
We run physiotherapist-led online sessions every Monday (18:30), Wednesday (18:30) and Thursday (16:45). We also offer Pilates, yoga, seated chair dance and low impact dance, along with educational, relaxation and meditation sessions.
Last, but not least, we have twice monthly social sessions. These offer a safe space for all our members to come and chat about anything and everything!
Check out our NASS online branch September 2023 timetable.
If you're interested in joining us, please email us at onlinebranch@ nass.co.uk. We are a friendly and supportive bunch of people who welcome new members to our branch.
You can find us on Facebook and Instagram.
Please note that you must have a UK diagnosis of Axial Spondyloarthritis (Axial SpA) or Ankylosing Spondylitis (AS) to attend.
COST
Individual Sessions : £5
Monthly Subscription : £20 for 5 sessions or £30 for unlimited sessions (subscription payable on the first day of the month)