Cost: £6 per session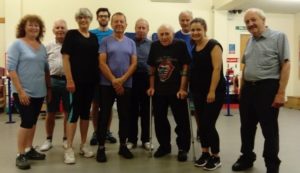 Due to COVID19 we have moved to online stretch sessions. Please do get in contact if you'd like to join us.
We have been meeting for over 25 years and have an open door policy. Either contact Alan or just turn up on a Monday and join in our exercises. At your initial attendance, you may be assessed by the physiotherapist leading the session to ascertain your fitness to participate.
All our members live with axial SpA (AS) and have experienced many of the associated issues over the years and we are happy to share our experiences with you if you'd just like to chat.
Our gym sessions are all run by one of our team of experienced physiotherapists. We start with a warm up  followed by a range of stretches standing, sitting and lying on mats. We also have cardio exercises on the gym equipment and ball exercises. All members work at their own pace, you will not be pressured to do anything you don't feel you can do.
Please note that you must have a UK diagnosis of axial spondyloarthritis (Axial SpA) or ankylosing spondylitis (AS) to attend this branch.
NASS Redhill
Fill in this form below to contact NASS Redhill