Cost: £6 per session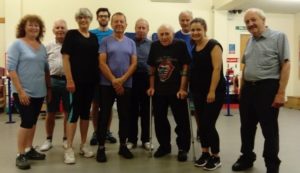 COST: £6 per session
Due to COVID19 we have moved to online stretch sessions. Please do get in contact if you'd like to join us.
We have been meeting and exercising for over 30 years and for the last year have been running the sessions using Zoom which has worked well and also has enabled people outside of our normal catchment area to join in. We welcome new members from anywhere in the UK.
All our members live with axial SpA and have experienced many of the associated issues over the years and we are happy to share our experiences with you if you'd just like to chat.
Our Zoom sessions are run by one of our team of experienced physiotherapists.  All members work at their own pace, you will not be pressured to do anything you don't feel you can do.
Please note that you must have a UK diagnosis of axial spondyloarthritis (Axial SpA) or ankylosing spondylitis (AS) to attend the branch and, before you begin, you must complete a simple safety/consent form for insurance purposes.
You would be very welcome to join us.