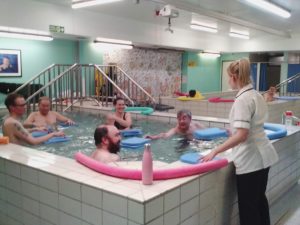 Cost: £37.80 per month by Standing Order
Our group was founded in 1992. We are a small and friendly group. The emphasis is on serious exercise but it's all done in a light hearted way.  Aside from the regular exercise, the biggest benefit comes from talking to others with axial SpA. We like to think we can give you advice and reassurance, and share experiences.
We know that when you have axial SpA, it's important to keep yourself as flexible as possible. Exercise is the best thing that you can do to help yourself.
We have weekly hydrotherapy and physiotherapy sessions under the supervision of experienced physiotherapists.
If you'd like to come along and see whether the group is for you and the therapy is what you need, up to three trial sessions are available at the cost of £7 per session, giving you the opportunity to make up your mind before you commit yourself.
We look forward to welcoming you.
Please note that you must have a UK diagnosis of axial spondyloarthritis (Axial SpA) or ankylosing spondylitis (AS) to attend this branch.