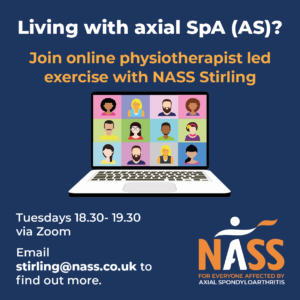 Cost: £4 per session
The Stirling group has been running since 2001. The group consists of a wide range of ages, from twenties to seventies, and all are welcome. People with a range of  abilities attend and each session is led by a qualified physiotherapist.
Exercise is extremely beneficial to people with axial SpA (AS), so what better way to improve our health than together. Join our online sessions via Zoom.
Please note that you must have a UK diagnosis of axial spondyloarthritis (Axial SpA) or ankylosing spondylitis (AS) to attend this branch.