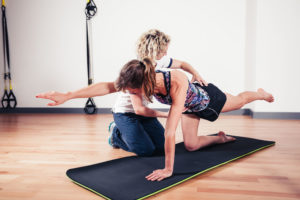 Cost: £6 per session
The Stirling group covers the areas of Stirling District, Clackmannanshire, South Perthshire and Kincardine on Forth in Fife. It has been running since 2001.
Our members range in sge from their twenties to their seventies. All are welcome. People with a range of  abilities attend and each session is led by a qualified physiotherapist.
Exercise is the single most important thing you can do to help yourself. It's not enough to rely on medication, you also need to exercise. so what better way to improve our health than together. The fitter and more flexible you are, the better able you will be to deal with your symptoms.
If you're not able to make it to the venue, you can also join our gym sessions online.
Our exercise sessions last for around 50 minutes and always begin with a gentle group warm-up. The exercises that follow are geared to increasing flexibility and range of movement, as well as increasing muscle strength and lung capacity. We always finish with 5 minutes of relaxation.

Please note that you must have a UK diagnosis of axial spondyloarthritis (Axial SpA) or ankylosing spondylitis (AS) to attend this branch.