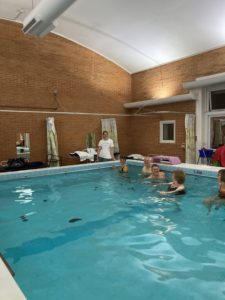 Cost: £7.50 per session
We are a fun group who enjoy the hydrotherapy and the benefits it gives us. We welcome all newcomers!
We have a group of physiotherapists who work on a regular rota to provide the weekly hydrotherapy sessions. Each of our physiotherapists runs the session differently which means each week feels different.
We aim to make the sessions fun and enjoyable for people of different ages and abilities who are affected by axial SpA. The sessions focus on improving mobility, strength and general cardiovascular fitness.
The physiotherapists are able to offer advice and guidance on axial SpA related problems and symptoms.
Please note that you must have a UK diagnosis of axial spondyloarthritis (Axial SpA) or ankylosing spondylitis (AS) to attend this branch.