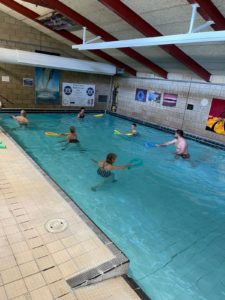 Cost
Hydrotherapy: £22 per month
We are currently meeting for hydrotherapy every week but will move back to the gym as soon as it is available.
We are a self-help group providing support and encouragement to people living with axial SpA (AS) to exercise. We work together with The Great Western Hospital physiotherapy team to offer supervised exercise sessions every week. Both hydrotherapy and physiotherapy are on offer.
The physiotherapists work to regularly monitor and measure the benefits of exercising at our branch.
Please note that you must have a UK diagnosis of axial spondyloarthritis (Axial SpA) or ankylosing spondylitis (AS) to attend this branch.
Click here to see a calendar of our sessions
NASS Swindon
Fill in this form below to contact NASS Swindon