Cost: £4 per session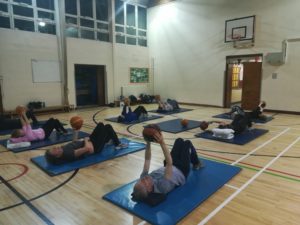 We are a small friendly group, with a dedicated team of physiotherapists on hand to support every member to exercise according to their capabilities. We hope you will join us.
The main approach to the school is up Nunthorpe Avenue, and there is parking there. However the gym is on the other side of the school site, near the back gate which is at the top of Philadelphia Terrace.
We have exercises with a qualified physiotherapist from the rheumatology department of York Hospital each Tuesday 18:30 to 19:30.
Members find the opportunity to meet with and talk to others living with axial SpA (AS) to be especially valuable.
Please note that you must have a UK diagnosis of axial spondyloarthritis (Axial SpA) or ankylosing spondylitis (AS) to attend this branch.