"Before I was diagnosed, I was in so much pain I couldn't get out of bed. Now I'm running a half marathon to support others living with axial SpA"
Leah Blackwell was diagnosed with axial SpA (AS) nine years after her first symptoms started. Here,
 she explains her difficult journey to diagnosis and why she is taking part in the Royal Parks Half Marathon to support others living with the condition.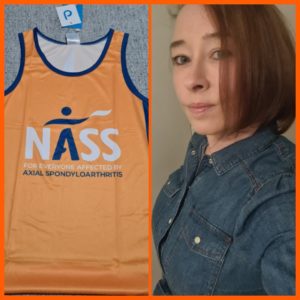 My first symptoms began back in 2012 with pain in my lower back. I was diagnosed with sciatic pain and was prescribed painkillers. Three years later, the pain was no better and had started to move into my shoulder blades and the middle of my spine. 
As a painter and decorator, being active is a large part of my day to day life, but the pain got so much that I found myself completely bed-bound and unable to work for three months. Desperate for answers, I turned to the internet. 
I know it's not always a good idea to start Googling your symptoms, but I'm glad I did in this instance. I had had psoriasis for many years but had never considered this a being connected to my back pain. The more I read, the more I became convinced that I had psoriatic arthritis. 
I didn't know what arthritic pain felt like, but at that point, I was taking three tramadols each day, and they weren't making any difference to the pain. My back felt like it would snap in three places, and I couldn't move my head to the right either.  
I didn't feel I was getting anywhere with my GP, so I booked an appointment with a doctor that specialised in psoriasis. Within five minutes of explaining my story to him, he said, "I cannot believe that your GP did not refer you years ago!" I broke down in tears – it was the first time I felt heard. 
After further tests, I was finally diagnosed with axial SpA (AS), nine years after my first symptoms began. I am now on biologics, and it's been a real game-changer. The night after my first injection, I actually slept through the night! I still get the aches now and again, and I still live with fatigue and extended tiredness, but my psoriasis is gone and compared to how I felt before, I'm living a normal life! 
Because of my experience, I wanted to do something to support others looking for answers and struggling to live with this condition. I decided to sign up for the Royal Parks Half Marathon on 10 October this year and raise money for NASS. It will be a huge personal challenge and the first time I've run this sort of distance, but knowing I'm making a real difference to others with axial SpA is a big motivator.  
Axial SpA (AS) isn't a well-known condition, and I'm told this delay to diagnosis isn't unusual. I encourage anyone worried about their chronic pain to keep pushing for answers with their doctor or pick up the phone and chat to the NASS Helpline Team, who can provide advice and support. 
---
We are incredibly grateful to everyone who fundraises to support our work. Leah has already raised £95, which could enable our Helpline Team to support ten people who

need our support during this challenging time. 

To sponsor Leah, please visit her

JustGiving page

.
If you are inspired to join Leah on the start line of Royal Parks Half Marathon on 10 October 2021 with #TeamNASS, you can book your place 
here
.