World AS Day: Dance, Yoga and Me
As part of World AS Day on Saturday 6th May 2023, we are sharing stories from some of our community about their journey to diagnosis and their experience of living with axial SpA. 
When she was diagnosed with axial spondyloarthritis in 2019 Louise Usher was determined to keep her passion for dance alive. Read her blog below.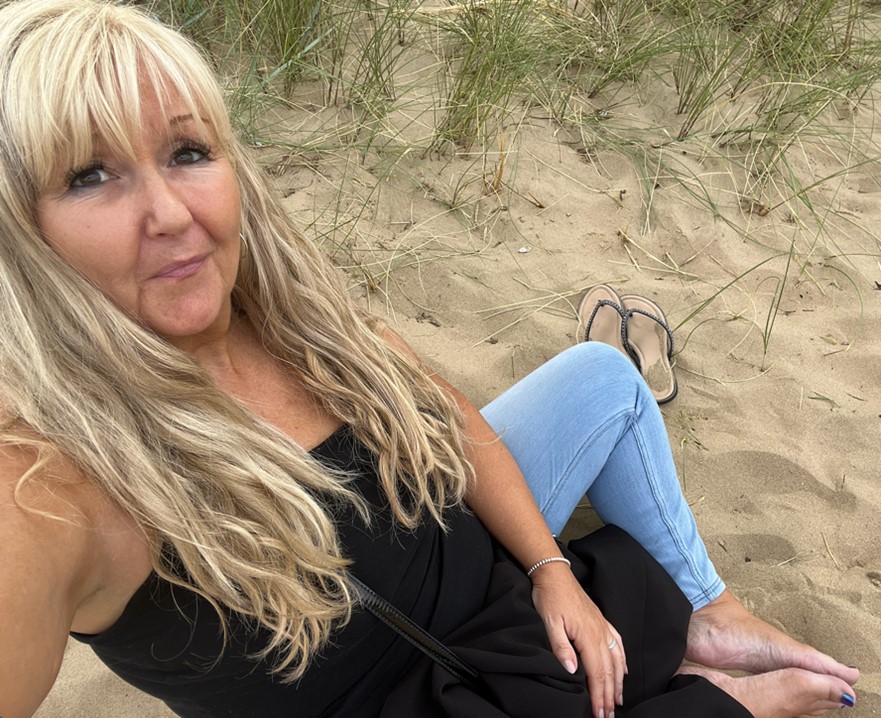 My diagnosis of axial spondyloarthritis in 2019, followed an MRI. This conversation with the rheumatologist was thirty-seven years after my back ache started, aged twelve. Many people feel comforted by a diagnosis after a long period of pain, while some are devastated by the news. My emotions were erratic. I decided to find out if there was anything I could do to help myself. The NASS website gave me valuable information and one of the most vital messages I read was about the power of movement.
Dance was a passion of mine, which I had enjoyed over many years, and yoga was another form of movement which I felt had helped my pain. I found both activities difficult but without the movement, I felt as though my body needed stretching.
As soon as the diagnosis came, I knew I had to keep moving and for me, going to the gym became important. This coincided with my mothers' dementia diagnosis. I had taken her in to live with me and she began to complain that I was never home. She was right, I wasn't. I was at the gym, or at work. My aim was to manage my symptoms and protect my mobility.
During that first year following my diagnosis of axial SpA, I tried to fit in as much living as I could. I felt strong and fit and thought this was a good sign. It was, but it was unachievable longer term, as I needed to continue working and supporting my family, as a single mother to twins and the sole carer to my mother.
During a new yoga class. I had a frozen shoulder and tried to move the rest of my body while my shoulder was in pain. My yoga teacher silently left me to adapt for a few weeks, until I finally spoke to her at the end of the session. "I have some health issues; I don't want you to think I'm not trying."
She was the kindest yoga teacher I had met. We struck up a friendship which stands firm today, and she helped me to realise the potential I had within my body, while also helping me to accept my limitations. Between yoga and the stretching I have been given by my physiotherapist, I am still flexible. If I miss my sessions for too long, my body reminds me to keep on moving. My physiotherapist said he hopes to delay fusion for as long as possible.
Dancing occasionally aggravates my pain and stiffness. Other times, it helps me to feel better. My friends who are part of my network have no idea of my struggles. I keep smiling as best as I can while enjoying the embrace of the friendships, the music we listen to, and the fluidity of the body.
In 2022, I heard of a dance competition at the famous tower ballroom in Blackpool. It was the World Modern Jive Championships. My days of hoping to win such a competition had passed. But I decided it would be amazing to compete, while I could, for the fun of it.
I entered the competition.
The category was to dance with a stranger. I entered the iconic Tower Ballroom for the first time and enjoyed the sight of the lights, the glitter balls, and the atmosphere in the ballroom. I watched some people dance and noticed some fluent dancers. One was called Andy. I had never met him before, but we ended up paired as my 'dance with a stranger' leader. It was my job to follow his lead in a freestyle jive. Neither of us knew the music we would be dancing to. My smile was wide as I realised I had a partner who could truly dance. The track began and we moved together in time with the music.
He knew nothing of my axial SpA and danced with me just the same as he would dance with anyone. The beats slowed in the middle of the song and Andy took his right hand behind my waist, taking me in to a back bend. This was a competition in the world championships, and I was going to give this backbend all my efforts.
Click. Click. Click. My vertebrae clicked as if I was at the chiropractor as I bent backwards. My eyes were open, and my face pointed towards the ceiling. My long blonde hair hung beneath me as I noticed the view above me. The impressive architecture was above us, with gold embossed cornices and painted ladies with swirling tails. A truly breath-taking sight, I took a moment to savour this joy.
I was in the arms of a dancer, bending backwards, at the Tower Ballroom, with AS.
Time stopped momentarily as I devoured the sight and the irony of the minute. This was going to be a story I would tell in my rocking chair.
One of the judges walked up to Andy and tapped him on the shoulder. This meant, we were through to the next round. Some of the dance competitions called this 'lucky dip' and I was always lucky in this category.
Andy and I ended our dance journey together at the end of the semi-final. We didn't make the final. We thanked each other for some wonderful dances together and we left the floor in different directions, back to our own groups of friends.
Andy has no idea of the legacy he left me with, or how important he will be in my future storytelling. I did see him at another event a few months later, and I wanted to pull him to one side and thank him. I wanted to explain how momentous our time at the Blackpool Tower Ballroom had been. But I gathered he would just think I was over-the-top weird.
I planned to make that my last ever dance competition because I fully expected to feel worse one year on. Between the team who help me, and my own efforts, I competed once again this year. I didn't win a medal. But I feel I won in other ways.
Onlookers would not have known I was anything other than a woman dancing jive. Internally I was thankful for the opportunity to dance, thankful to my body. Pride filled me as I realised, I was the person who made a decision to click on the website and book the tickets to compete.
It was my decision to announce quietly to a few friends that this would be my last competition. Had I underestimated the power of movement? Or had I been victim to the fear of my diagnosis?
I spend too much time thinking about what the future might hold, and squeezing the best out of my joints, while they are still willing. I sense I should let go and be in the moment, enjoying all it has to show me.
Two weeks ago, it was time to go to Blackpool once again. I was in a flare and there was an extra pain in my heel. The physiotherapist had given me electric shock wave therapy on the Thursday. I was worried I wouldn't be able to walk, let alone jive. But I had signed up to dance with a stranger again, just to get on the floor, while cheering on my daughter who was also competing.
She was lucky with her partners, as well as dancing as if she was born to dance. I lost my voice over the course of the weekend as I called out to them on the floor as she span in double time, with her blonde hair leaving a blur behind it. She took first place in two categories and second place in another. We brought home the crystal.
My daughter knows my ambition of winning a place in a dance competition is twenty years too late. Often the finalist, never a place. I was envious, I was proud. Proud of her, proud of me for being there, proud of my body for allowing me to carry on. I had cried. I wanted my own crystal, but in the scheme of things, being able to walk on to that floor is my win.
"Go do it for your Mum," I told my daughter as she took to the floor with her first partner. As Brown Eyed Girl played, I felt magic in the air.
What about the future?
I can still hear the music, I can still hug my dance friends, I can still watch my twins dance. I can smile and embrace the ability I have, rather than the disability which may have prevented bringing home the crystal.
Would you like to read more blogs about life with axial SpA? Then read Chris's story, as he talks about what it was like to get a diagnosis at a young age.