"By the time I was diagnosed with axial SpA, permanent damage to my spine had occurred. I'm now walking to make a difference to others"
NASS Member Dominic Myers is taking on a year-long walking challenge to raise awareness about axial SpA and support NASS's work to reduce the delay to diagnosis to just one year. This is his story. 
---
I first experienced symptoms of axial SpA around 1986 when I was just a teenager. When I finally received my diagnosis in 2017, I discovered that my spine had fused. I've been told that it looks like a bamboo walking stick now.
Axial SpA is an invisible condition, and it's not immediately obvious to look at me that I'm in pain or have limited mobility. When I asked for a Blue Badge parking assessment, I got some very quizzical looks!
Keeping active is really important when you have axial SpA.
It sounds counter-intuitive that exercising your aching joints can prevent stiffness later, but it works a treat! Luckily I enjoy walking, and I take my dogs at least twice per day. When I'm walking, I like to listen to audiobooks. I also spend a lot of time keeping an eye on what my dogs are up to – particularly the youngest, who often decides to pick up terrible things to eat on our routes!
I find that if I sit or stay still too long, for example, if I've had a long drive, my joints can get very stiff. This stiffness, coupled with tendonitis, means that I walk like I'm about three times older than I am. (OK, that would put me near to 150 years old, but you know what I mean!)
I started walking more during lockdown.
In 2020, my friend and colleague Claire Ashton started a virtual walking challenge to keep people at work moving during lockdown. I signed up and found the experience so positive as it encouraged me to spend a lot more time walking, especially at weekends.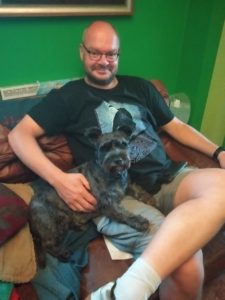 Having a goal in mind helps keep me moving. As a web developer, I also find it really motivating to collect data to chart my progress. This also keeps my mind engaged when I'm not walking.
I enjoyed the challenge so much that when it finished, I was determined to keep going! Claire and I signed up for the Walk 1,000 Miles in 2021 challenge, which happened to coincide with NASS's Walk with Us, Walk for AS fundraiser.
I started walking in January and hit the 1,000-mile mark by April!
I couldn't believe that I had managed to walk so far in less than four months, so I signed up for another virtual challenge – the Pacific Crest Trail – which is a further 2485.5 miles! I'm already 15% of the way there. I hope I can complete the distance by the end of the year.
I'm also very proud that I've met my fundraising target of £250. It took so long to get my diagnosis of axial SpA, by which time permanent damage occurred. I'm hoping that the money I have raised will help NASS make a difference to others living with the condition.
---
Dominic has raised £250 to support our work, which will make a significant difference during a very challenging year. You can find out more about Dominic walking challenge and follow his progress here.
If Dominic has inspired you, why not participate in your own Walk with Us, Walk for AS challenge?