Sandra was diagnosed with axial spondyloarthritis at the age of 21. After suffering with joint issues that were stopping her partying during her 20s, she has learnt that exercise is the key to managing my axial SpA. She recently completed a charity walk for NASS with her sister, raising £937.50.
Here is her story.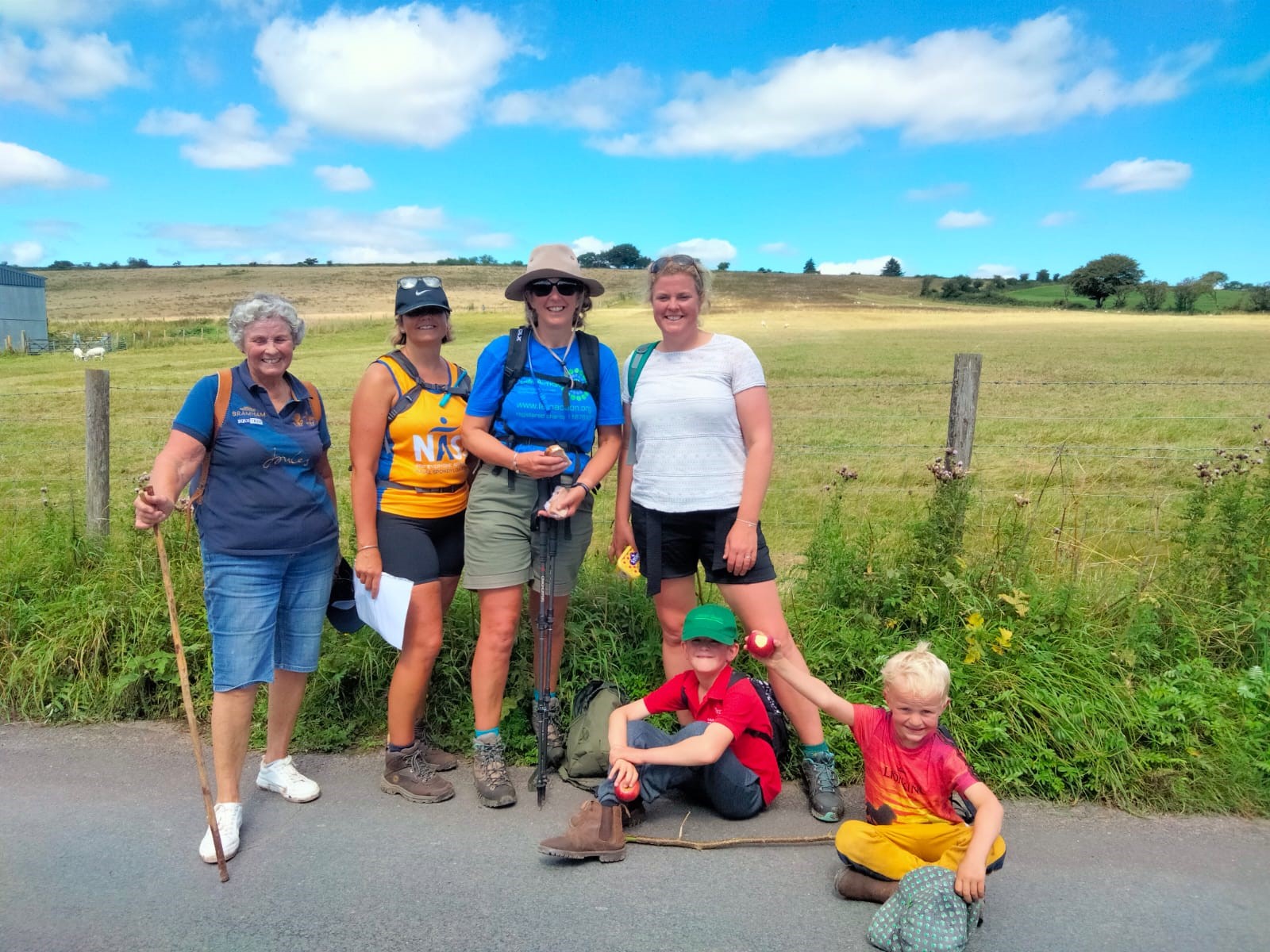 Axial SpA is  generally a "man's disease", so having Frankie (my daughter), I was a living experiment for both Musgrove and Southmead hospital staff as they argued over the best route for me. My Dad (a farmer) was my greatest influence here – if you fall pregnant, we must trust she will come out! No different to a heifer he told me. I ended up giving birth to her naturally, breaking my pelvic area to do so and pain relief was no option due to my spine being fused lower down. Thankfully, the gas was worked! But hence my Frankie is my only child!
During my time with this condition, I have of course had to adapt my career moving away from the full-time salon work to teaching and now managing. I have been to various exercise therapies and movement support groups but prefer to do my own thing. I can be quite disciplined with myself to have a general daily exercise routine. This means my movement has remained pretty good and I certainly cannot complain when I visit my specialist and see others in far worse positions. Currently I don't miss out on anything and hope this continues for many years yet.
Rich (my husband) is my rock and supporter. He knows you just don't ask some days. I know he hates it when I am in pain. Although, I generally walk at his speed during these times. He says one day I will be there every day experiencing the world at his pace, so I best get used to it!
Last week, my sister Lucy and myself completed the West Mendip Way 30 miles from Uphill to Wells. It's a beautiful walk with many ups and downs but we were lucky enough to have sun!
We completed the walk for two charities close to our hearts.
Lucy was Diagnosed with LAM (lymphangioleiomyomatosis) in 2019 after a time in hospital with Sepsis. In fact, the sepsis probably saved her life as now her condition is being treated and we hope she will have longer than the 10 years the hospital gave her on diagnosis.
LAM is a rare type of lung disease. Abnormal muscle-like cells begin to grow out of control in the lungs and in the lymph nodes and kidneys. Over time, these LAM cells can destroy healthy lung tissue. As a result, fluid-filled pockets called cysts may develop, preventing air from moving freely in and out of the lungs. This can prevent oxygen from reaching the rest of the body.
The LAM charity supports Lucy and others across the country with the latest information and a support chat that she can access.
Our second charity is (of course) NASS. This charity has supported me with hydrotherapy, ongoing social support, and exercises to keep everything moving and flexible for longer.  I try and raise some money for this good cause every year  and its certainly mounted up over the years since diagnosis at 21.
Our grand total is currently £1500, so we will split the collection to both charities and give a huge thank you to everyone that supported us both with money donations but tea, coffee, and cake on our route. It also helps greatly when you have parents who host a welcome to the finish drinks!
If you haven't completed the West Mendip way and are a keen walker, then I would certainly recommend it.
It was opened in 1979 and starts at the Uphill Marina.  It climbs the Mendip escarpment affording views over the Somerset Levels. It then inclines to Crooks Peak and crosses the central Mendip plateau leading down to Cheddar Gorge and on to Draycott Reserve, Priddy, Ebor Gorge, Wookey before heading to  Wells. Most of the western section is within the Mendip Hills Area of Outstanding Natural Beauty.
Thank you Sandra for all your amazing support for NASS!