Service redesign in the spinal clinic to improve patient engagement and self-management
Blog by Paula Dowie, Advanced Physiotherapist, NHS Fife.
Background
AS the Fife Rheumatology Spinal Team we are responsible for supporting people with axial spondyloarthritis (AxSpa). We noted that a number of people attending their review appointments had not engaged with specialist physiotherapy services.
We recognised that this was having a detrimental effect on their self-management. The aim of our project was to increase engagement and self-management of people with AxSpa in Fife. We utilised quality improvement tools including the driver diagram and PDSA cycles to achieve our aim and we were delighted with the results.
You can listen to our Rheum for  Improvement podcast, episode six, where Paula shares how her team worked with patients to improve attendance levels at their clinic.
How did you start the process of engaging patients?
We were conscious that there was a high number of patients with axial spondyloarthritis not engaging with physiotherapy. Patients were referred for physiotherapy through the spinal clinics by the Consultant, Nurse Specialist and Pharmacist, but many were either not attending their appointment or not opting in to get an appointment.
We had a vision of how we would like it to be and hoped that this would facilitate better engagement. We decided to change the process and involve physiotherapy from the beginning by being present at the clinic for the patient's initial appointment. We also changed from using an opt-in appointment letter that relied on the patient contacting us to our receptionist phoning and offering a physiotherapy appointment. We developed a virtual spinal multidisciplinary team meeting to discuss newly diagnosed patients 4 months after diagnosis as well as complex patients. We used this to assess their progress and engagement and decide on what was the most appropriate review considering what was important to them.
What tactics did you use to engage your patients?
I used a personal outcomes approach during my initial consultation with the patients to aid engagement by finding out what matters to them, what they hope for and what they want to be different in their lives. This facilitates a conversation focused on the patient to ensure they feel listened to and understood to aid motivation. This helps to formulate an asset-based approach to wellbeing using the person's own knowledge and skills to help patients change by constructing solutions rather than focusing on problems. I used this approach to help reduce assumptions and engage with therapy. Axial SpA patients have often already had experience with physiotherapists and without the diagnosis this can sometimes be a negative experience, and a reason for not engaging.  I took time to ensure they discussed previous experiences and together worked out a plan. We enabled more time at the initial consultation to speak to both the consultant and physiotherapist, so we have time to listen. The Consultant also highlighted the benefit of a combination of medical management and physiotherapy to get optimal outcomes.
What sort of response did you get?
The number of patients attending for physiotherapy increased and we reached a point where all invitations were being responded to and very few patients did not attend appointments (see graph). Those that did not want to come for physiotherapy were not offered appointments. The physiotherapists seeing the patients for the first time commented that some of the patients were already engaging and seeing improvements with the exercises they had started in clinic. I felt that the patients had a positive experience.
Can you give examples of highs and lows you faced? Any barriers or big wins?  
The staff involved in the spinal service have felt the satisfaction of being part of a project that has helped our service to evolve. Prior to the clinic we were frustrated with the lack of engagement and the clinics felt disorganised. We now enjoy the clinic and have dedicated time to discuss challenging patients at the spinal multi-disciplinary team (MDT) but also celebrate the achievements of patients engaging and making good progress. This has helped job satisfaction and team building.
The stats show the reduction in wasted appointments and patients not being seen by physiotherapy. Covid provided the opportunity to see less patients face-to-face enabling more time with those that need this and to dedicate this time at the beginning of their journey following diagnosis. It has helped us communicate and learn from the members of the team for the benefit of the patients. We had some positive feedback about our spinal service through care opinion.
For me a low point was when our consultant was unable to attend the clinic and one patient was initially quite disappointed to be seeing a physiotherapist rather than a consultant. We realised that the paperwork sent to patients does not mention that they will be seeing a physiotherapist.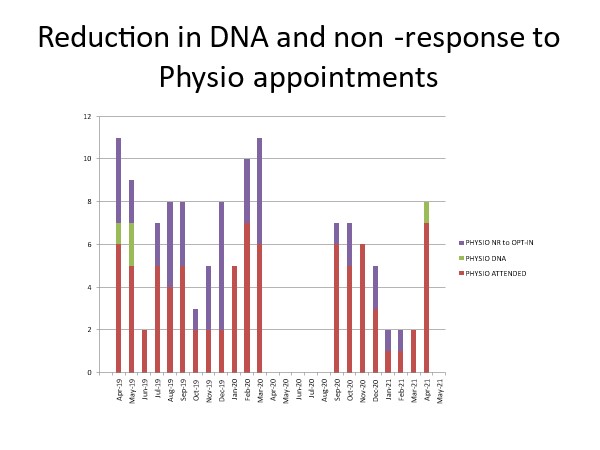 You can listen to our Rheum for  Improvement podcast, episode six, where Paula shares how her team worked with patients to improve attendance levels at their clinic.