What NASS has done for me over the years has been immeasurable, so it's lovely to be able to give something back!
Nick Peace, 69 from Hertfordshire, has lived with axial SpA since he was in his mid-teens. This October, Nick is taking part in Step Forward for AS to help raise awareness about axial SpA and support others living with the condition.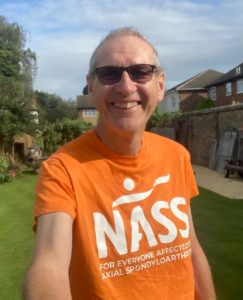 "I first started experiencing symptoms of axial SpA when I was about sixteen. For years I lived with intense pain that travelled from my lower back down the back of both my legs. Doctors couldn't tell me the cause. When I was at university, I had two laminectomies (surgery to remove part of the vertebral bone)which improved my leg pain but unfortunately did nothing to help the pain in my upper back and shoulders. Although my father lived with axial SpA, my doctor didn't consider that the same condition could be causing my pain, and it wasn't until I was 26 years old that I received a diagnosis of axial SpA.
As others with the condition can tell you, life with axial SpA has its ups and downs.
Sometimes the pain and fatigue can be terrible. I manage my symptoms with anti-inflammatories and being as active as possible. I'm a keen gardener, and I try to walk 5,000 steps a day. I also see a physiotherapist and take part in weekly clinical Pilates sessions.
One of the biggest challenges I've had with axial SpA was when I was first diagnosed. It took me so long to really understand the impact that living with a chronic condition would have on my life.
Until I discovered NASS, I felt like I was the only person other than my father, who had axial SpA. 
That's where I've found NASS invaluable. I joined NASS as a member in the 1990s at a time in my life where I felt incredibly lonely and didn't understand what my diagnosis meant. My father died not long after I received my diagnosis, and I didn't know anyone else who lived with the condition.
The NASS information booklets and website information have helped me understand axial SpA and how to manage it. Meeting others living with the condition has made me less isolated, and I've been actively involved with my local branch in Stevenage over the years. It's been wonderful meeting other NASS members at events like Member's Day. I appreciated being able to continue to connect during COVID at NASS's virtual Member's Day last year.
One of the many reasons I support NASS is their campaign to reduce the delay to one year. 
My daughter was diagnosed with axial SpA after living with painful symptoms for nearly nine years. Decades after my delayed diagnosis, it's so frustrating that she also experienced a significant delay in starting treatment.
That's why I've chosen to take part in Step Forward for AS. It's my way of helping to raise awareness about axial SpA and a few donations to support NASS's work. I'm challenging myself to walk 5km each day on the 9th and 10th of October. Please give me a wave if you see me out and about in Hertfordshire in my NASS t-shirt out that weekend!
What NASS has done for me over the years has been immeasurable, so it's lovely to be able to give something back."
---
Thank you to everyone taking part in our first-ever Step Forward for AS event on 9 and 10 October 2021. We are so grateful for your support!
If you would like to fundraise for NASS, please check out our upcoming events. From cycling challenges to half marathons to virtual walks to bake sales, we've got something for everyone – plus, if you've got your own fundraising activity in mind, we can support that too! Find out more.