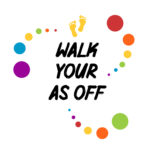 Walk Your AS Off (WYASO) is an annual virtual step challenge all about getting active for health and raising awareness about axial SpA (AS).  It's organised by Walk AS One, an all-volunteer organisation that mobilises and motivates a global community to raise awareness and address the challenges of those affected by Ankylosing Spondylitis and its family of related diseases.
NASS supports this event, alongside other organisations worldwide, to help raise awareness of axial SpA and raise funds to support our vital work.
Here's how it works.
Each day during May, record the steps you take using your Fitbit or other pedometers and upload them to your team page on the Walk Your AS Off website. It's really easy to join in, just do what you enjoy! There are no minimum or maximum steps, and any activity can count!  It's all about taking part – whether you walk 50 steps or run 5,000, it all adds up to our collective team step total.
There is no minimum fundraising amount to take part in Walk Your AS Off, but every penny you raise will make a big difference and help us transform the diagnosis and care of everyone living with axial SpA (AS).
Plus, all Team NASS participants receive a welcome pack, a NASS t-shirt and a bandana for their four-legged friends.
Walk Your AS Off registration form