Paul is 37 years old and lives in Durham City with his wife and 3 children. He is also a NASS Trustee and Director of a company employing around 100 people. Like so many, his journey to diagnosis was a long one.
Paul struggled with severe pain from his early teens. Despite trying hard to continue playing sports at school, he remembers how hard it was to keep going through the pain.
" I clearly remember being on the rugby field at 14 and not being able to get back up after a tackle. One day on the cricket pitch, whilst fielding, I feel to my knees. It was the only way I could stop the pain from shooting up my groin and into my hips. It was the most embarrassing feeling of my young life. To hobble off the field and not be able to explain what was going on to people.
"By the time I was 18, and playing first XV rugby at school, I had been to the GP more times than I could remember. I had referrals to specialist physios, Ultrasounds, x-rays, chiropractors and Osteopaths."
However, after receiving multiple diagnoses none quite seemed to fit for Paul. Like many people, he was told it could be growing pains. He went to university at age 18, and from there his condition deteriorated rapidly.
" I remember thinking at first that it was the poor mattress in my halls of residence. I kept paying for private physio and Chiropractors, whilst taking more and more ibuprofen and paracetamol to try and get me fit enough to walk to class and play rugby.
"I started to notice that I was closing myself off from social occasions and although I had an amazing set of friends around me, it was hard for them to understand why I was acting like I had the body of a 90 year old. I couldn't blame them. Even I couldn't understand or explain it."
After a restful summer Paul returned to his second year of University with an increased desire to push himself harder than ever before.
"Unfortunately, my relief was short-lived, and during an away rugby match I went into a scrum and blacked out. I couldn't remember hitting the floor but I clearly remember the excruciating pain all over my back, hips, and neck and being carried off the field by the subs.
"That was my last ever game of rugby. I had gone from playing sport 7 days a week to not at all. I started missing lectures as I couldn't walk the 2 miles into the City Centre from my house and the bus was too bumpy.
"I went for X-rays, again at my own cost, but nothing showed up. I was lost. Completely and utterly lost. I managed to scrape through Uni with an Honours Degree in Business Studies, but I was rarely happy. My only consolation was meeting my future wife at the end of Uni. I was distracted in many ways by the happiness that my time with her brought, but I knew I couldn't continue as I was."
After university Paul moved back to Durham where he found another private physiotherapist, the 7th he had visited in 5 years.
"He recommended I go and see an old friend of his, a surgeon at the Freeman Hospital in Newcastle. I asked my GP for another referral and I was back into the NHS system again. After 5 minutes of seeing this chap in in his office in Newcastle, he asked if I would have time to see his colleague who was a rheumatologist. Of course, I said yes.
"As soon as she saw me, she sent me for an MRI and an X-ray and a blood test. Within weeks I had a diagnosis of Ankylosing Spondylitis.
"The most enlightening part of having a diagnosis, was actually having a diagnosis. For years I thought I had injured myself playing sport. It was so empowering to be verified in my beliefs that there was a deeper root cause that I couldn't control. There was a real condition that could be treated.
"Within a few months I had started my Anti TNF immunosuppressant therapy and started to feel a change in my body. I noticed I was relying on less and codeine, and able to do more exercise."
Unfortunately, Paul's delay to being diagnosed led to fusion in his lower back, hips and sacroiliac joints. This means he has little flexibility in those areas and relies on massage, hydrotherapy and exercise to manage the condition.
"The support I received, and still receive from the Freeman Hospital in Newcastle is phenomenal. If I am ever in a flare, I make one quick phone call to the specialist nurse helpline, and they usually have me in to see them the next day. I can't thank them enough for everything they do for me and for other patients in Newcastle.
Now Paul can focus on his family and helping make a difference to others living with AS.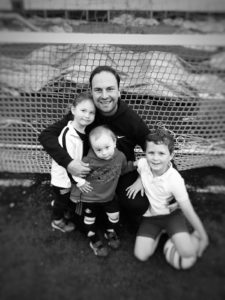 "When I look around me, I can't stay down for too long. My children and family are a blessing beyond measure. My amazing wife acts as a carer and a motivator when my disease flares, which can still be quite often, even when on immunosuppressant medication. My children are just a ray of light, and the energy they bring to the equation is immeasurable. They provide me with distraction, humour, energy and a determination to carry on through some pretty dark times. My sister is great, and often helps fundraise for NASS. She is very supportive of my condition.  
"If anything good was to come out of my condition, it would be that I was able to spot symptoms in my younger brother before the disease progressed too far for him. He started Anti TNF before fusion progressed too far. I will also be eagle eyed in spotting anything in my children. I also want to use my position to help others in this condition, who are in a much less fortunate than I am, and don't have a support network around them."
---
The Freeman Hospital in Newcastle is one of the services selected for the Aspiring to Excellence programme, showing their commitment to improving axial SpA (AS) care. The programme which launched in 2019, is bringing AS clinicians from the across the country together, to innovate and test ways to reduce the delay to diagnosis and improve AS care and patient experience. You can read more information about the Aspiring to Excellence programme here.