"When I saw Walk Your AS Off, I immediately signed up."
It took Victoria 20 years to get diagnosed with axial SpA. Now, she has signed up for Walk Your AS Off to spread awareness of axial SpA, particularly in women and healthcare professionals, and raise vital funds for NASS.
Here's her story.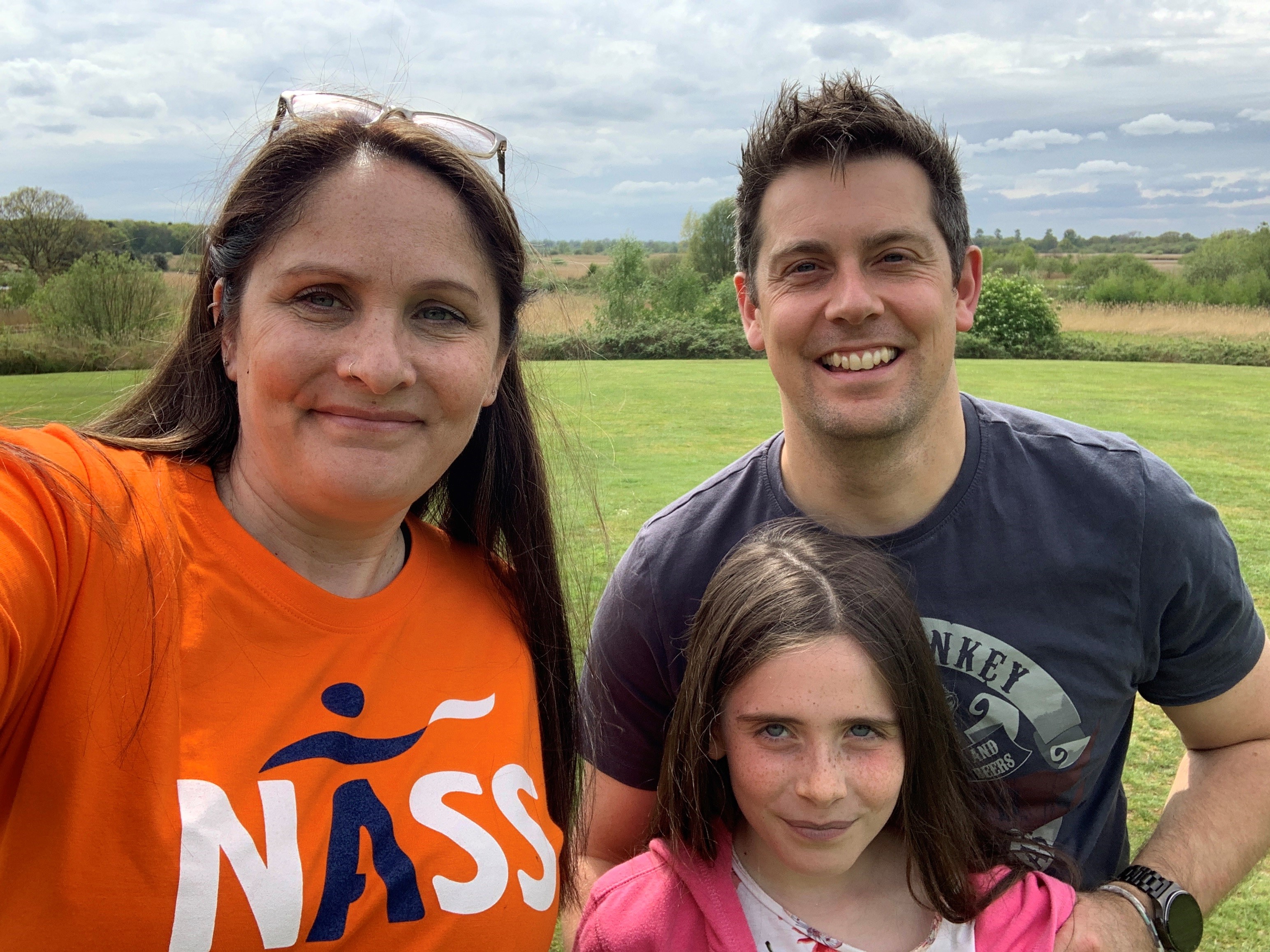 I'm a 40 something (I've lost count) mum. My first 'babies' were Holly and Rosie, my two Labradors, who I adored just as much as (if not more than) the children who arrived next; Josh (17), Faith (15) and my twins, Olivia, and Phoebe (10).
Prior to my life as 'muuuuum', I moved to Bournemouth, and while living there I had a road traffic accident (not my fault for once!). The next few years were littered with appointments for my neck pain and bad headaches, which later became diagnosed as migraines.
I received treatment from a physiotherapist, occupational therapist, acupuncturist, chiropractor, osteopath and a sports massage therapist among other treatments, therapies, and aides. But nothing helped.
It must have cost the NHS a considerable amount of money (and time) for all my x- rays, MRIs, and cortisone injections, as well as appointments with GPs, neurologists, and the Pain Management Centre. I've been on morphine patches & pregabalin amongst other things to manage my symptoms.
Within 10 minutes of me sitting down and describing my symptoms, she said, "I know what this is".
2 decades and 4 children later…
Thankfully, I was finally seen by an excellent GP and a rheumatologist at the Norfolk and Norwich University Hospitals NHS Foundation Trust. Within 10 minutes of me sitting down and describing my symptoms, she said, "I know what this is". She sent me immediately for a blood test which showed the gene HLA B27. That, together with my other symptoms, including a hugely swollen knee and ankle on one leg (wrongly diagnosed as an infection rather than a flare), difficulty getting out of bed in the morning (to the point where my partner would roll me off the side of the bed, much to the children's amusement), being extremely stiff in the mornings, getting better with gentle movement and exercise, and my issues with my upper back and neck, I was finally diagnosed with axial SpA after 20 years.
20 years of not knowing what's wrong. 20 years of worry and stress at what it could be. 20 years of thinking people, even friends and relatives don't believe you. 20 years of taking medication, but not knowing what for. 20 years. Two decades. Too long.
I've had to quit my job in benefits at Broadland Council, as I could not work at a PC for 38 hours a week. I now board dogs for fun at my home. It helps me get up when I'm feeling down and get me walking even when my body is telling me it doesn't want to.
"When I saw Walk Your AS Off, I immediately signed up."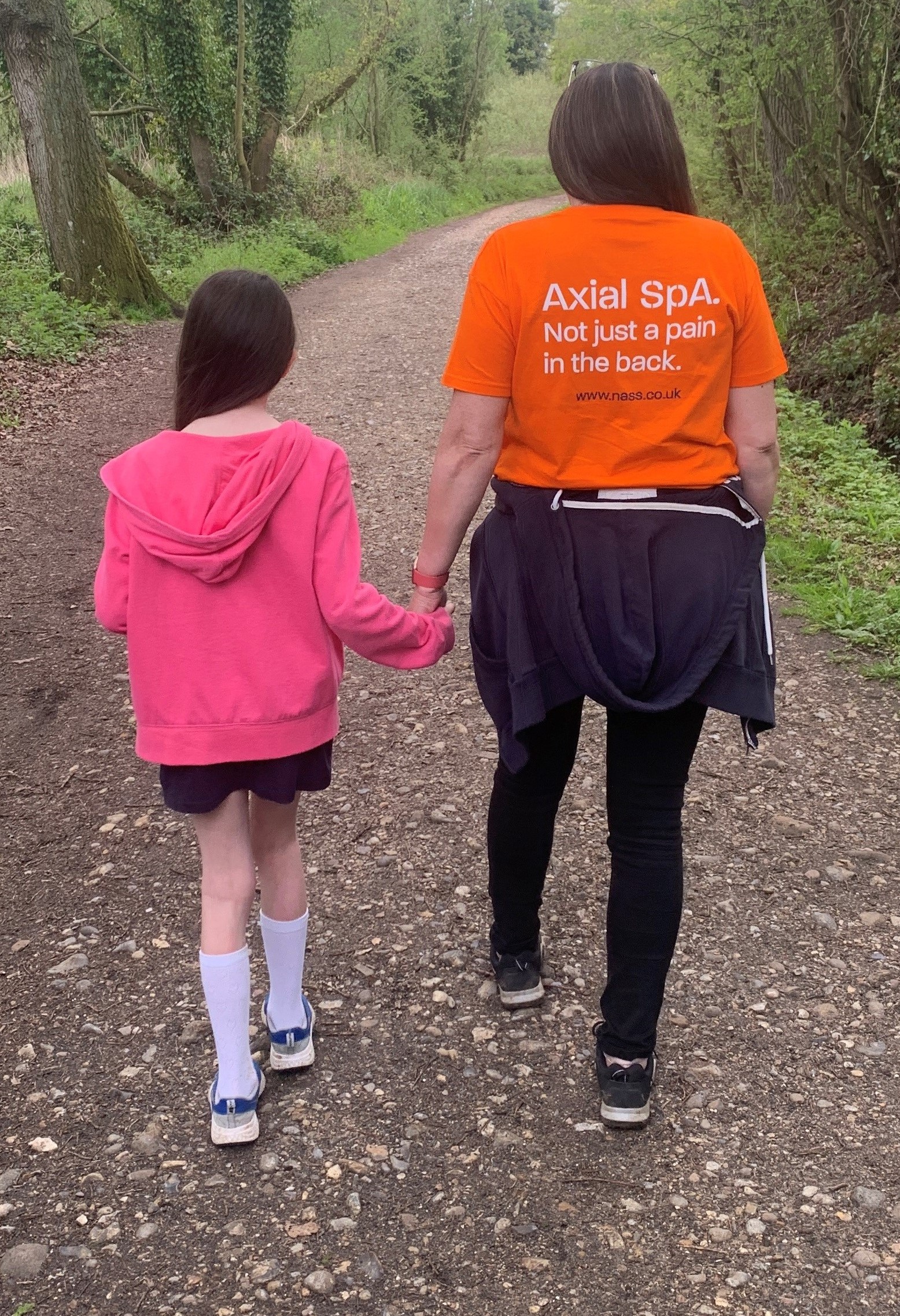 I found NASS through the hospital paperwork and then on social media. When I saw Walk Your AS Off, I immediately signed up with two main goals in mind. Firstly, to spread awareness of axial SpA and its warning signs, particularly in women – this condition is still incorrectly classed as a 'young man's' illness. Secondly, I hope that eventually there will be more knowledge within the medical profession of axial SpA. I have seen too many doctors, nurses and physios who are unaware of axial SpA and the devastating effect it can have on people's lives.
I will be encouraging my children and resident fur babies to get involved with Walk Your AS Off as well. I hope to raise some well-needed pennies, but more importantly raise awareness.
Feel inspired by Victoria's story? Sign up to our monthly e-news, follow us on Facebook, Instagram or Twitter or keep an eye on our website for further updates on Walk Your AS Off 2024!