Being active was always the best way for me to manage pain (at least until I sat down!)
Kathy Miller is a NASS member and the team captain of the NASS AS Buzzers for the Walk Your AS Off (WYASO) challenge. Here, Kathy shares her story of living with axial SpA, and how keeping active helps her tackle the challenges of living with the condition.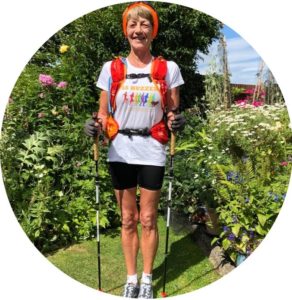 I had lived with back, hip, neck and chest pain all my life. I contracted mumps when I was eight years old, and I always assumed these pains were related to that. Doctors told me that I had "growing pains" until I was a teenager when they told me that my chronic pain was psychosomatic. As a young woman, this was so mentally damaging, and eventually, I stopped going to the doctors. I couldn't bear being told the pain I lived with was 'all in my head'.
In 1999 my dear Dad died. Because he had been a coal miner his whole life, a post mortem had to be carried out. The report said that he had undiagnosed Ankylosing Spondylitis (AS) and fused vertebrae in his lower back. Having never heard of AS, I looked it up and got the shock of my life. Everything I read described my symptoms!
The first thing I did was book an appointment with my GP. I told him about my Dad and how my own symptoms seemed to match up exactly. I'll never forget how he smiled at me and told me that it was VERY unlikely I'd have AS as the condition only affected men. However, he did agree to run the HLA-B27 blood test (it's the gene that's present in over 90% of people with AS) and sent me for a lower back x-ray. I heard nothing more after that, so I assumed my test results had been negative. It wasn't until three months later when I went back to see if I could get a referral for physiotherapy, my GP told me that I had tested positive for HLA-B27 and that I had back problems! I was referred to a rheumatologist, and finally, at the age of 41, I was diagnosed with AS.
In the months that I had waited for my test results, I had become quite depressed. I gave up paid employment because of my chronic pain and started working as a self-employed professional artist. I had also developed sciatica on top of my 'usual' pains.
But when I received my diagnosis, I was determined to get some control back.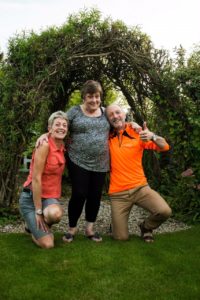 The very next day, I joined my local NASS branch, and it was great to connect with others who were living with the same condition. In 2014, I met Gillian Eames when we were both supporting our friend Gerry Dance who was running the London Marathon for NASS. After hearing that I'd had a negative reaction to steroids and NSAIDs and that my GP had only prescribed me painkillers, she suggested I get referred to the Royal National Hospital for Rheumatic Diseases in Bath. That was the single best advice that I was ever given! I was met with kindness and was actually listened to. I learned so much about the condition, and after 17 years of managing my symptoms with just pain killers, I started Anti-TNF treatment, which worked wonders.
After my first shot, the pain had eased within 24 hours! The first thing I did was pull on a pair of trainers and run to the post box and back.
I hadn't been able to run since I was a teenager, and to feel the wind in my face again was a truly magical moment and one that I will never forget.
It took a few months to get lasting pain control, but I've been on Humira for just over four years now, and it's changed my life completely. It's actually allowed me to achieve a dream I never thought I'd fulfil – to run again. I can't run continuously as my hips, back and neck still get very painful pretty quickly, but I can take part in running events. However, my favourite events are ultra-distance walking challenges (up to 100km in one go).
It was through my love of walking and my friendship with Gillian, that I first got involved with Walk Your AS Off (WYASO).
What's great about WYASO is that everyone can go at their own pace and choose a challenge that's right for them.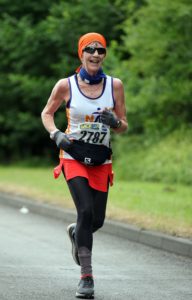 Before my pain was managed, walking to the end of the road felt impossible, but now that I can, walking and running makes me feel physically and mentally strong, helps me cope with pain, and helps to keep me fit. I had initially joined the Orange Apples team, but a few years later Gillian and I decided that I should start a new team for other people like me, who had AS and wanted to take on a more physical challenge or push themselves over a longer distance. The NASS AS Buzzers team now has a core of faithful supporters, family and friends.
The fact that I can push myself further than I thought possible years ago has taught me that I have more mental strength and stubbornness than is possibly good for me! Pushing myself over long distances does still come at quite a high price in terms of pain, but now it's a pain of my own creation, if that makes sense? But no matter how I'm feeling, when I'm taking part in an event, point a camera in my direction, and you'll capture a big beaming smile!
Thank you to everyone who has joined NASS AS Buzzers for this year's WYASO, and I look forward to connecting with everyone during the challenge.
Walk Your AS Off is an international step challenge, all about getting active for health and raising awareness about axial SpA. It's organised by Walk AS One, and NASS supports this event, alongside other organisations worldwide, to help raise awareness of axial SpA and raise funds to support our vital work.
To join Kathy for this year's Walk Your AS Challenge, which starts on 1 May 2022, please register online, and we'll send you a NASS t-shirt, a bandana if you are walking or running with your four-legged friend and full instructions on how to count your steps. 
If you would like to show your support with a donation, please visit the team fundraising page.